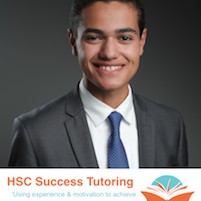 Verified mobile
Verified marks
References
Reviews
Availability
Around Bossley Park
Sunday

9:00 AM - 9:00 PM
Monday

9:00 AM - 9:00 PM
Tuesday

9:00 AM - 9:00 PM
Wednesday

9:00 AM - 9:00 PM
Thursday

9:00 AM - 9:00 PM
Friday

9:00 AM - 9:00 PM
Saturday

9:00 AM - 9:00 PM
Travel policy
All our tutoring occurs at our Bossley Park centre, near Club Marconi.
About
As a previous HSC student, Michael has been recognised with numerous academic and community service certificates. Currently studying Commerce at the University of Sydney, Michael seeks to give back to the community through HSC Success Tutoring. Michael is a firm believer of a positive mindset and is passionate in making this a central element when tutoring students. Michael has been described as a young entrepreneur where his story was published on the Daily Telegraph.

Students are asked what their goals and ambitions are, and Michael along with his staff, work together in a consistent and strategic plan, creating results.

1 hour: $35

Feel free to contact Michael on 0424 474 449, and check out the company website on: www.hscsuccesstutoring.com.au
Achievements
Finalist for the 2017 Local Business Awards, Outstanding Youth Certificate.
Finalist for the 2017 Local Business Awards, 'HSC Success Tutoring'.
The Early Entry Academic & Leadership Scholarship by The University of Sydney.
The ADF Long Tan Youth Leadership & Teamwork Scholarship.
The Confraternity of Christian Doctrine Catechist Certificate.
Certificate for the Advocacy of Children & Young People by the NSW Government.
The Community Service & Leadership Award by The Hon. Jason Clare MP.
10 year service Certificate by AC United Football Club.
Education
Year 12 completed in 2016.
Mark achieved: 93.15 (verified).
Currently studying Commerce at The University of Sydney.
Interests
Current Affairs/ Politics
Football
Reading
Public Speaking
---
Reviews
One of the most caring, genuine and well spoken men I've come across. This man will be in parliament one day! Proud to know you Michael.
- By Angela Patrus on 9th June 2017
Very smart, committed, well spoken and confident, a very nice man! Thanks Michael!
- By Anthony Wang on 5th June 2017
Michael is a very nice guy which has helped me so much with my confidence in English. I recommend Michael to anyone which needs tutoring to get the best results and to improve their confidence.
- By Alexander Su on 5th June 2017
Write a review
Character references
Michael is a gentleman. His contribution to his community has been outstanding and I recommend anyone to use Michael as their tutor as he delivers the best service.
- By Patricia Wells on 5th June 2017
Write a reference
Services
One-to-one tuition
Group tuition
Teaching studio
Subjects
Ancient History
Biology
Business Studies
Chemistry
Commerce
Economics
English
English as a Second Language
French
French Beginners
French Continuers
French Extension
Fundamentals of English
Geography
HSC English Extension 1
HSC English Extension 2
HSC History Extension
History
History Elective
Legal Studies
Mathematics
Mathematics Extension 1
Mathematics Extension 2
Mathematics General
Modern History
Physics
Senior Science
Studies Of Religion
Tutoring students in
Year 12
Year 11
Year 10
Year 9
Year 8
Year 7