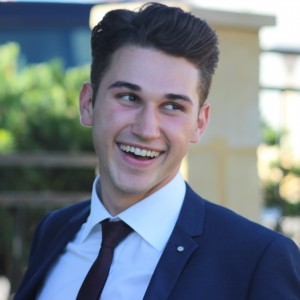 Verified mobile
References
Reviews
Availability
Around Landsdale
Monday

4:00 PM - 7:00 PM
Tuesday

4:00 PM - 7:00 PM
Wednesday

4:00 PM - 7:00 PM
Thursday

4:00 PM - 7:00 PM
Friday

4:00 PM - 7:00 PM
Saturday

9:00 AM - 5:00 PM
Travel policy
Can travel anywhere around Joondalup and Hillary's area.
About
Hi! My name is Arnold Buys. I am bilingual, speaking both the languages English and Afrikaans. I'm currently a UWA student undertaking a Physiology Major and Sport Science Minor. Upon completion of my Undergraduate degree, I will start my doctorate as a Bonded Medical student commencing 2020.

I have completed my Senior First aid certificate and own a Working with Children card.

As a personal or group tutor, I will endeavor to help students achieve their potential through hard work and dedication to their studies. As a student athlete, I know how difficult it may become for those who play sports at a high level and still aim to achieve high in their studies.
Achievements
Certificate of Excellence (Physical Education Studies ATAR)
Western Australia Basketball League (Team Captain for Stirling senators x3 years)
Bonded Medical Place (Commencing 2020)
Education
Year 12 completed in 2016.
Mark achieved: 96.00.
Currently studying Science (Physiology and Sport Science) at The University of Western Australia.
Interests
Basketball
Rugby
Painting
Swimming
Reading Classic Novels
---
Reviews
This was our first experience using a Maths tutor. Arnold replied to our request promptly, and was able to assist us with very short notice for exam prep.
Arnold arrived on time, researched the course content, and in my sons words "I've learnt more in 2 weeks with Arnold than I have in 2 years. "
I would not hesitate to recommend Arnold for Maths tutoring, we cannot thank him enough.
- By Rita on 22nd May 2017
I've been tutored by Arnold several times for both Maths and Human Biology. The first ever tutoring sessions I had with him in Math enabled me to not only get a high mark, but to surpass my other peers and gain the top grade in Math. He is very patient and will persist in trying different methods until you understand the work. A great tutor!
- By Jessica on 8th April 2017
Arnold is very clear in his explanations. He has tutored me a few times and I find that he has helped me a lot in understanding concepts and applying those to my work. I have received help for both math and science from him and my grades improved in both subjects. Definitely worth contacting
- By Leah on 7th April 2017
Write a review
Character references
Arnold is a great tutor. I highly recommend him. He tutored my year 10 son for Math and helped my son improve his marks greatly. He is very prompt in his responses, very approachable, goes out of his way to prepare practise tests, and is clear and patient. My son will be continuing with Arnold throughout year 11.
Highly recommend!!

- By Amanda on 13th September 2017
Write a reference
Services
One-to-one tuition
Group tuition
Home visits
Phone help
Online help (Skype)
Subjects
Biology
Chemistry
Health and Physical Education
Mathematics
Physics
Science
Tutoring students in
Year 12
Year 11
Year 10
Year 9
Year 8
Year 7