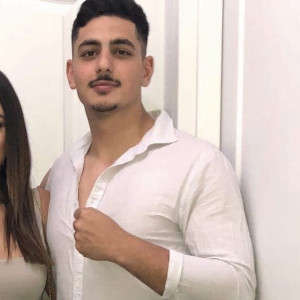 Availability
Around Bankstown
Monday

4:00 PM - 10:00 PM
Tuesday

4:00 PM - 6:30 PM
Wednesday

4:00 PM - 10:00 PM
Thursday

4:00 PM - 10:00 PM
Around Hurstville
Monday

4:00 PM - 10:00 PM
Tuesday

4:00 PM - 6:30 PM
Wednesday

4:00 PM - 10:00 PM
Thursday

4:00 PM - 10:00 PM
Travel policy
Please contact me for details
About
The Key to Success - Be Your Best.


Being able to manage your Studies in Year 11 and 12 is the single most important skill you can have. If you feel that you're in need of help for the Mathematics HSC and Preliminary Courses
DON'T WAIT UNTIL EXAM TIME !!! Now is the time to get motivated and working towards achieving the results you want and deserve.


Hello and thank you for taking the time to visit my page.

Completing the HSC in 2014 I achieved an ATAR of 92.7, excelling in Mathematics Extension 1 and 2. Guiding my students to excel and reach beyond their capabilities is my goal.

This is attainable through ensuring my students have extensive comprehension of the syllabus by keeping them engaged during lessons and motivated, constantly reminding my students of the goals they want to achieve and how to get there.

I work with my students to prepare them come exam time, by providing them with the ability to apply the knowledge they have acquired skilfully and fluently and able to walk out of the exam knowing they have done their best.

I have a strong passion for Mathematics and passing on knowledge to others. The joy I feel from teaching brings a great positive atmosphere to lessons, inspiring my students to succeed, making lessons productive and potent.

I am very familiar with General, Advanced, Extension 1 and Extension 2 Mathematics. I have a variety of resources which is available to my students in order to afford them with the best opportunity for their studies.

I am also available at anytime for assistance through phone or email. I encourage students to utilise this service as it will exponentially improve their studies, and results by making their time and tuition lessons more valuable and productive.

I am flexible in availability and location. If there is no available time slot for you to book with me through the site, please contact me directly and I would be more than happy to work around your schedule. For any questions or enquiries please do not hesitate to contact me on 0401 718 797.

Thank you again for your time and consideration.
Education
Year 12 completed in 2014.
Mark achieved: 92.70.
Currently studying Bachelor of Health Science in Traditional Chinese Medicine at University of Technology Sydney.
Interests
Martial Arts
Meditation
Bouldering
Languages
Calisthenics
---
Write a review
Character references
Write a reference
Services
One-to-one tuition
Home visits
Phone help
Online help (Skype)
Subjects
Mathematics
Mathematics Extension 1
Mathematics Extension 2
Mathematics General
Dimitri can be found among