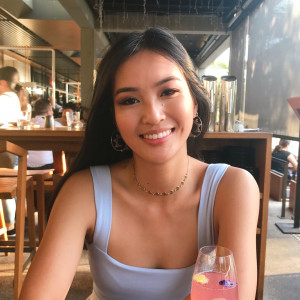 Verified mobile
Verified marks
Reviews
Availability
Around Burwood
Sunday

9:00 AM - 10:00 PM
Monday

4:00 PM - 10:00 PM
Tuesday

4:00 PM - 10:00 PM
Wednesday

4:00 PM - 10:00 PM
Thursday

4:00 PM - 10:00 PM
Friday

9:00 AM - 10:00 PM
Saturday

9:00 AM - 10:00 PM
Travel policy
Able to drive to student's home, up to 20 minutes away, for no additional cost
About
Hi there, I'm Jessie and I attained a full score of 45 (99.95 ATAR), graduating from the International Baccalaureate in 2016. I'm currently studying Medicine at UNSW. In my early stages of the IB, I never believed myself capable of achieving the elusive perfect score. Now having completed the program, I'm genuinely passionate to help others like yourself fulfill their full academic potential and attain the results they never thought possible.

Having in-depth personal experience in completing the program, I understand that the IB can be a mind-boggling minefield. I found that corresponding with past IB students helped me immensely in navigating each of my subjects. They were not only able to provide academic support, but also tailored advice on how to juggle the IB along with everything else that life has to offer.

With over 2 years of IB tutoring experience, I have helped dozens of students achieve their ideal marks and improve across all the subjects I offer. Think of me as not only a tutor but a mentor, keen to help you understand the in's and out's of exactly what IB markers are looking for while providing you with the tips and tricks your teachers may overlook.

I received a Band 7 in all of my 6 subjects, an A in the Extended Essay and a B in TOK.
Achievements
UNSW Academic Achievement Award 2017
Distinction Average WAM at UNSW
Working with Children Check: WWC1554745E
National Police Check Certificate
MLC School All-Round Academic Excellence 2014 - 2016
Year 12 Subject Prize for Economics
Vice House-Captain 2016
MLC School Prefect 2016
Education
Year 12 completed in 2016.
Mark achieved: 99.95 (verified).
Currently studying Bachelor of Medical Studies/Doctor of Medicine at The University of New South Wales.
---
Reviews
Jessie is a great tutor who adapted to my style of learning and my ability straight away! She helped me with my italian ab initio and has made me feel more confident in my ability and given me valuable advice and tips on how to get a grade 7. Definitely recommend her!.
- By Maddy Sherbon on 8th April 2017
Write a review
Character references
Write a reference
Services
One-to-one tuition
Group tuition
Home visits
Teaching studio
Phone help
Online help (Skype)
Subjects
Creativity, action, service (CAS)
Economics
English
Extended essay (EE)
Italian
Mathematical Studies SL
Psychology
Theory of knowledge (TOK)
Tutoring students in
International Baccalaureate