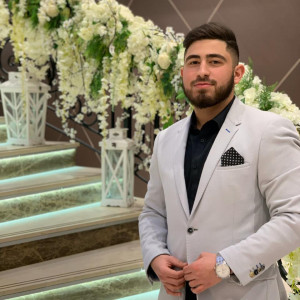 Verified mobile
Verified marks
Reviews
Availability
Around Chester Hill
Monday

4:30 PM - 8:30 PM
Tuesday

4:30 PM - 8:30 PM
Wednesday

4:30 PM - 8:30 PM
Friday

4:30 PM - 8:30 PM
Saturday

10:00 AM - 2:00 PM
Travel policy
Don't travel, students attend class.
About
I am an experienced tutor who graduated in 2015 with an ATAR of 98.80. I have appropriate facilities, working from home, to tutor students from years K-12.

I achieved Band 6's (marks of 90+) in all my HSC Subjects - Mathematics Extebsion 1 (97), Mathematics Extension 2 (92), Biology (95) and Chemistry (92).

With my first-hand experience sitting for the HSC in 2015, and high school in general, I am confident in conveying the knowledege I have learnt over the years as well as during the HSC to current students who may feel overwhelmed at the large tasks they must tackle.

I have an ability to make the hardest of concepts seem so simple and ensure the student understands, in depth, how a concept works. I am passionate about helping students become better in their studies so that they can become active members of society, attending university and achieving degrees, allowing them to do something they love.
Achievements
I have achieved an ATAR of 98.80
Ranked 1st in Biology HSC (95)
Ranked 1st in Chemistry HSC (92)
Ranked Top 5 in 3&4 Unit Maths (97 & 92)
HSC Distinguished Achiever
Second Highest ATAR of 2015 Cohort
Education
Year 12 completed in 2015.
Mark achieved: 98.80 (verified).
Currently studying Engineering at The University of Sydney.
---
Reviews
Omar is a very well experienced tutor and I have learnt heaps with him. He is very engaged with the class and helps us a lot with our problems. I have learnt things I never would have thought I would learn with Omar's help! He is an outstanding tutor and I would recommend him to anyone!
- By Ahmed Ayad on 1st March 2017
Omar is a excellent tutor, he helps us learn when we are stuck. He does not move on unless we understand the concept. I have learnt many new things with him that I have struggled over the years with. I would recommend him as a tutor!!
- By Salem E on 1st March 2017
Write a review
Character references
Write a reference
Services
One-to-one tuition
Group tuition
Teaching studio
Subjects
Biology
Business Studies
Chemistry
English
Mathematics
Mathematics Extension 1
Mathematics Extension 2
Mathematics General
Personal Development, Health & Physical Education
Science
Senior Science
Tutoring students in
Year 12
Year 11
Year 10
Year 9
Year 8
Year 7