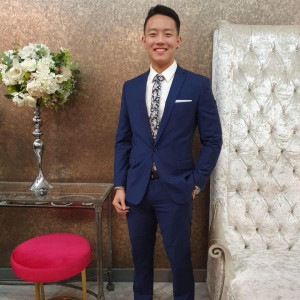 Verified mobile
Verified marks
References
Reviews
Availability
Around Berala
Sunday

9:00 AM - 8:00 PM
Monday

9:00 AM - 8:00 PM
Tuesday

1:00 PM - 8:00 PM
Wednesday

9:00 AM - 8:00 PM
Thursday

4:00 PM - 8:00 PM
Friday

1:00 PM - 8:00 PM
Saturday

9:00 AM - 8:00 PM
Travel policy
Travelling distances is possible, however prices may vary according to location.
About
*ONLY TAKING GROUPS (2+) FOR TUTORING NOW, MUCH CHEAPER RATES, ENQUIRE NOW*

Kevin here. I graduated in 2016 with an ATAR of 99.05 with E4's in 4u and 3u Mathematics (91/95). I also achieved Band 6's in Advanced English (92) and PDHPE (95). I believe that a quality tutor who understands the difficult concepts embedded in the syllabus content assessed throughout the HSC courses can help any student of varying ability in achieving and maximising their potential in their studies in the present and in the future, through a charismatic, open and crystallised communication with students. This I am passionate about, as I experienced first hand while I was completing the HSC myself, and I will bring the same experience to my students.

I am working with children check verified.
Achievements
HSC Distinguished Achiever
Sydney West Regional Representative in Cross Country/Touch Football/Athletics
Top 5 all subjects in school
Runner-up DUX of Parramatta High School
Education
Year 12 completed in 2016.
Mark achieved: 99.05 (verified).
Currently studying Bachelor of Applied Science (Physiotherapy) at The University of Sydney.
Interests
Powerlifting
Mathematics
Cricket
Touch Football
---
Reviews
Kevin is very passionate and explains each concept in maths clearly before moving on. He also helps clear any doubts I have and pushes students to achieve their personal best.
- By Biruthivi on 20th February 2018
Kevin is an excellent teacher whose methodical teaching style makes the concepts and lessons very understandable. He is always pushing for students to achieve their best
- By Chris on 2nd December 2017
Quality tutor, taught extension 1 and 2 maths very well, explains each topic methodically and pushes for excellence in each of his students.
- By Arthur on 15th November 2017
Kevin is a great teacher, he has helped deepen my understanding in many areas of maths. I am always looking forward to my lessons as he makes them enjoyable.
- By Jess on 10th November 2017
Has many resources at hand and can teach at varying speeds for each individual . . Overall great tutor
- By Jimmy on 12th January 2017
Kevin is a great teacher and has many resources on hand for all extension math courses. He always ensures that I have a deep understanding of the subject before moving on and is always enthusiastic about planning my next lesson.
- By Daniel on 12th January 2017
I am eager to annoint a competent tutor to assist and equip me with the fundamental knowlegdge in achieving my future goals.
- By Jonno on 5th January 2017
I've had Kevin for Extension 2 mathematics for a few weeks now and find the lessons very enjoyable and enlightening. His teaching method is very efficient and he will always make sure you 100% understand the questions.
- By Wales on 5th January 2017
Have been to 1 on 1 lessons with him and can definitely tell he is very passionate about teaching! I made huge progresses in math thanks to Kevin exposing me to different questions.
- By Erik on 4th January 2017
Write a review
Character references
Kevin's dedication and enthusiasm placed on offering the highest level of teaching is remarkable. I have personally witnessed tremendous academic improvement across all his students' through his guidance and expertise. Kevin is an amazing guy and after knowing him so well for so many years, I can without hesitation absolutely guarantee that getting tutored by Kevin is 110% worth it.
- By Peng Tang on 10th November 2017
Through the time that I gotten to know Kevin, he is a fully capable tutor who will be able successfully guide you through your high school journey. His professional manner and teaching skills set a high bar for tutors everywhere and it is through this that he is able to make your learning experience as enjoyable and worthwhile as possible.
- By Daniel Jeong on 10th November 2017
With Kevin's expertise, he is able to confidently communicate his knowledge to his fellow students in a friendly and kind manner. I have seen first hand his ability to change his techniques depending on the student to maximize his student's potential. He is the best I have ever seen.
- By Clinton Duong on 12th January 2017
Write a reference
Services
One-to-one tuition
Group tuition
Home visits
Online help (Skype)
Subjects
Chemistry
English
Mathematics
Mathematics Extension 1
Mathematics Extension 2
Personal Development, Health & Physical Education
Tutoring students in
Year 12
Year 11
Year 10
Year 9
Year 8
Year 7
Kevin can be found among