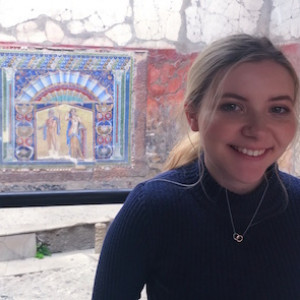 Verified mobile
Verified marks
References
Reviews
Availability
Around Five Dock
Wednesday

9:00 AM - 4:00 PM
Wednesday

5:00 PM - 7:00 PM
Thursday

9:00 AM - 4:45 PM
Friday

9:00 AM - 4:30 PM
Friday

5:30 PM - 8:30 PM
Around Ultimo
Monday

6:00 PM - 8:30 PM
Tuesday

9:00 AM - 6:30 PM
Travel policy
Unfortunately I only offer tutoring from Five Dock library or UTS Library, as travelling to students homes limits my ability to hold back to back sessions. If travelling to these locations is inconvenient for you, I can offer sessions over Skype.
About
18th in the State for Modern History and 2nd in the HTA Extension History Essay Prize in 2016.

*2019 COHORT: I have learned the new core syllabi for both HSC Modern and Ancient History.*

Hey! My name is Susie, and I'm a 2016 HSC All-rounder recipient, offering tutoring for HSC Modern History, Ancient History and History Extension! Achieving consistently high marks within the above subjects, along with placing 18th in NSW for Modern History and 2nd in the state-wide HTA Extension History Essay Prize for my Major Work, it is clear that throughout my school career I demonstrated a strong work ethic and drive to succeed - one that I will similarly demonstrate in making sure that you achieve your very best as well (scroll down to see my 2017 students results)! Along with now over a years experience tutoring, I have experience teaching both Modern and Ancient History on a mass scale, writing full-length, professionally published study guides, and running lectures for both subjects at UTS with ATAR Notes three times a year.

My final HSC results, which awarded me an ATAR of 97.80 in 2016 were as follows; Modern History (96/100), Ancient History (91/100), History Extension (48/50), English Advanced (93/100), Drama (91/100), and Studies of Religion I (47/50).

Tutoring sessions are catered to the needs of the student, however there will always be an overriding focus on the crucial skills, such as essay writing and source analysis, required to succeed. Content tutoring is also available, however keep in mind that due to the nature of these subjects, my specialities are limited to:

Modern History: WW1, Russia and the Soviet Union, Leon Trotsky and The Cold War. (As of 2018, I am also offering content tutoring for Germany!)

Ancient History: Cities of Vesuvius, The Julio-Claudians, Agrippina the Younger and Spartan Society to the Battle of Leuctra.

History Extension: What is History?, Western Imperialism.

Throughout 2017, my 15 students received consistently high results. More than 60% of my students ranked 1st within their cohort for history. Four students received full marks in at least one section of the Modern History or History Extension Trial Exams (one student receiving 100% for the Modern History exam overall). All history extension students received the highest mark within their cohort for their major work, one student receiving 100%. In 2017, none of my student received below a Band 5 (80% +) for Modern or Ancient History, with many achieving a Band 6 (90% +), the highest mark received was 94. None of my history extension students received below an E4 for History Extension, with the highest mark being 48/50. I am confident that my students will receive similar results in the 2018 HSC.

I am available for private tutoring at $50 p/hour, and group tutoring at $40 p/hour per person. I am based in the Sydney Inner West and conduct my lessons at either Five Dock library or UTS (location dependant upon the time of your session). If either location is inconvenient for you, I also offer skype tutoring at $40 p/hour!

Feel free to message me for more information, I look forward to hearing from you :)
Achievements
State Rank of 18th in NSW for Modern History
2nd in the HTA Extension History Essay Competition
HSC All-Rounder (Band 6 in 10 units)
Caltex All-Rounder Award
1st in all histories and Studies of Religion I within my school cohort
Distinction average across all subjects at university (3.5/4 GPA)
ATAR Notes Lecturer and Author for Modern History and Ancient History
Working With Children Check
Education
Year 12 completed in 2016.
Mark achieved: 97.80 (verified).
Currently studying Bachelor of Communications: Media Arts and Production and Creative Writing at University of Technology Sydney.
Interests
History
Filmmaking
Writing
Travelling
---
Reviews
Susie tutored me for Modern History throughout Year 12, and I am thankful for my wonderful experience with her. She understood my concerns, noted my weaknesses in the subject and helped me improve greatly in source analysis, essay writing and memorisation of core information. She is extremely encouraging and friendly, and helped me boost my HSC Modern mark greatly. Also, she was very flexible with timing and location, and offered me advice and guidance in other subjects as well.
- By Selina on 2nd May 2018
Susie is an awesome tutor with a clear passion for history. She has helped me achieve consistent marks throughout the year, whilst also increasing my passion for history. Thank you Susie D!!!
- By Phoebe Hussey on 29th August 2017
Susie is an outstanding, highly commendedable history tutor, tutoring me both in Modern and History Extension. I began sessions with her in term two, for my second assessment task, and from that, my marks and rank from 6th, placed me at a competitive rank at 2nd place, and a 23/25 in my Russia Essay! Also helping me achieve an 86% in my Half Yearly, full marks in my personality study and a 91% in my trial!!
History extension was no different, My first assessment task was a 20/25 for q1, what is history, in the Half Yearlies. But following tutoring sessions, I achieved an e4 in my extension project and in my trials, full marks (25/25) in question 1 and a 21/25 in question 2!!
From these sessions,
I have found that not only have my ranks and marks rose substantially (now achieving an equal 1st rank in Modern and a 1st in Extension), but my ability to construct essays, arguments, as well as thinking critically, has substantially improved and most importantly, my passion for history.
Susie is a lovely, intelligent and friendly tutor, with an outstanding amount of passion and strong ability to teach in all area of history - I would recommend her to anyone who wants to improve their marks, ranks and love for history!
- By Jess Martinuzzo on 29th August 2017
Susie is such a brilliant tutor! She is SO insightful, patient, really flexible and is willing to put the time and effort to assist her students in the best possible ways. From the very first lesson she made me feel comfortable and optimistic about enhancing my marks in modern. I honestly would 100% recommend her to everyone
- By Sara M on 29th August 2017
The best decision I ever made!

Before starting with Susie, I had little to no idea how to write a proper English essay (very problematic in my case as I do three units of English) I saw improvement within the first few sessions as Susie could quickly remedy areas that I needed to improve on. She is next level when it comes to modern history. With her stellar knowledge and help, I saw able to rank 1st within my cohort during Term 2 as well come in the top 10 for English. My essay writing improved so dramatically overall that I managed to also rank 4th in legal studies, 3rd in Studies of Religion, and 2nd in Extension 1 English (subjects which she didn't even directly teach!)
I honestly could not imagine doing my HSC without her guidance!
- By Maria on 29th August 2017
Absolutely amazing! After one session of modern tutoring I learnt more about essay structures then I did in a year. Very engaging, approachable and astute, would certainly recommend! Also very well informed about historical context particularly Russia.
- By Olivia Field on 24th December 2016
Write a review
Character references
Susie is an incredible tutor and mentor! She has an amazing range of sources and tools, and she's incredibly flexible in terms of content! Because of her amazing editing skills and history expertise, I was able to get full marks on my History Ext. Major Work, as well as achieving high marks in Ancient, History Ext. and Modern (so much so that I received an award for Modern upon graduation!)
I would HIGHLY recommend her services - she is brilliant, clever and lovely to be around.
- By Sarah Lewis on 25th September 2017
Susie is the most passionate, enthused and thorough student of History that I've come in contact with. Such qualities beam from her discussion of any discussion of social and political histories. Most importantly, however, she is able to explain some of the most intricate and complex historical scenarios in a way thats not intimidating and easy to understand. In a subject absolutely smothered by dense textbooks, drowned in dates and bursting with contradictory interpretations, it is incredibly important to have someone like Susie to help you through your Year 12 studies.

I would give my highest of recommendations to Susie as your next potential tutor!
- By Emily Jane Tyrrell on 30th August 2017
I hired Susie in December 2016 to author Course Notes for Modern and Ancient History, and to prepare lectures for HSC students.

She is truly phenomenal, both academically and interpersonally. It's clear to me that her intellect is second to none, and I can personally attest to her communication skills and educational abilities. I've seen hundreds of students in fits of laughter at her jokes, only to turn deadly silent as she begins to explain something that's never made sense to them before. Our lecture attendees consistently rate her as exceptional, and anecdotally, I've only ever heard students rave about her lectures.

I fully endorse Susie, and recommend anyone looking for tutoring in her subjects to send her a message.
- By Brenden - ATAR Notes on 29th August 2017
Write a reference
Services
One-to-one tuition
Group tuition
Online help (Skype)
Subjects
Ancient History
HSC History Extension
Modern History