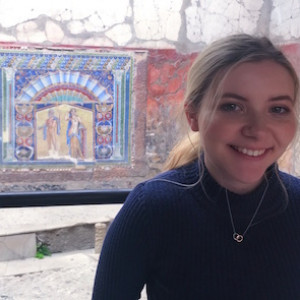 Verified mobile
Verified marks
Reviews
Location
Susie tutors around Five Dock
Susie also tutors around Broadway
Travel policy
I only tutor from Five Dock library or UTS University Library
About
***REGULAR TUTORING SESSIONS CURRENTLY BOOKED OUT. ONE-OFF INDIVIDUAL AND GROUP SESSIONS ARE AVAILABLE UPON REQUEST***

Hey! My name is Susie, and I'm a high achieving 2016 HSC All-rounder, offering tutoring for HSC Modern History, Ancient History and History Extension! Achieving consistently high marks within all the above subjects, along with placing 18th in NSW for Modern History and 2nd in the state-wide HTA Extension History Essay Prize for my Major Work, it is evident that throughout my school career I demonstrated a strong work ethic and drive to succeed - one that I will similarly demonstrate in making sure that you achieve your very best also! Along with this, I have experience teaching Modern History on a mass scale, writing a full-length, professionally published study guide, and running a popular lecture at UTS with ATAR Notes (27/1/17).

My final HSC results (which awarded me an ATAR of 97.80) were as follows; Modern History (96/100), Ancient History (91/100), History Extension (48/50), English Advanced (93/100), Drama (91/100), Studies of Religion I (47/50).

Tutoring sessions are catered to the needs of the student, however there will always be an overriding focus on the crucial skills such as essay writing and source analysis. Content tutoring is also available, however keep in mind that due to the nature of these subjects my specialities are limited to:

Modern History: WW1, Russia and the Soviet Union, Leon Trotsky and The Cold War.

Ancient History: Cities of Vesuvius, The Julio-Claudians, Agrippina the Younger and Spartan Society to the Battle of Leuctra.

History Extension: What is History?, Western Imperialism.

I am available for private tutoring at $45 p/hour, and group tutoring $35 p/hour per person. I am based within the Sydney Inner West and tutor at either Five Dock library or UTS University Library (location dependant upon the time of your session).

Message me for more information, I look forward to hearing from you :)
Achievements
State Rank of 18th in NSW for Modern History
2nd in the HTA Extension History Essay Competition
HSC Modern History and Ancient History Lecturer for ATARNotes
Author of the ATARNotes HSC Modern History Complete Course Notes
HSC All-Rounder (Band 6 in 10 units)
Caltex All-Rounder Award
1st in all histories and Studies of Religion I within my school cohort
Education
Year 12 completed in 2016.
Mark achieved: 97.80 (verified).
Currently studying Bachelor of Communications: Media Arts and Production at University of Technology Sydney.
Interests
History
Filmmaking
Writing
---
Reviews
Absolutely amazing! After one session of modern tutoring I learnt more about essay structures then I did in a year. Very engaging, approachable and astute, would certainly recommend! Also very well informed about historical context particularly Russia.
Olivia Field
24th December 2016
Write a review
Character references
Write a reference
Services
One-to-one tuition
Group tuition
Subjects
Ancient History
HSC History Extension
Modern History