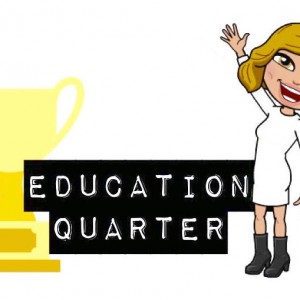 Availability
Around Parramatta
Monday

4:00 PM - 6:30 PM
Tuesday

4:00 PM - 7:30 PM
Travel policy
I do not travel to homes. I have two locations one in Parramatta, the other in Strathfield.
About
Are you looking for an experienced English teacher to tutor your child?

My name's Irene, I am a high school teacher with 5 years of experience teaching year 7-HSC English and I can help you!

At my teaching studio, "Education Quarter", my team and myself offer highly indvidualised coaching for both Advanced and Standard English at HSC level and have had an impressive success rate with former students, achieving fantastic results!

Our HSC results for 2016 were exceptional, with 93% of our students receiving over 88 for English!

My extension English 1 and 2 students received an E4 which is equivalent to a high band 6.

We offer tuition for:
Year 4 - 12 English
English Extension 1
English Extension 2
Primary Mathematics
Year 7-10 Mathematics
General Mathematics

Education Quarter is located in Parramatta. Our classes vary from two to four students in order to ensure your child receives the proper attention needed to ensure their knowledge (and grades) excel!

Visit our website: www.educationquarter.net for more information or find us on
Facebook for some previous students testimonials
https://www.facebook.com/Education-Quarter-792920500853905/

If you have any queries please do not hesitate to get in touch via text or phone call
(0422126725).
You can also send us an e-mail at educationquarter@gmail.com
Achievements
Accredited by the Australian tutors association
Ranked in the top 15 tutoring schools in
93% of our students achieved 88 or above for their HSC results in 2016
Education
University of Sydney (Graduated 2011)
Bachelor of education (secondary: English/history/commerce)

5 years of teaching full time at a private boys college in Sydney.

HSC marking experience
Interests
Writing, reading, running
---
Reviews
The sessions were helpful, especially the discovery workshop as we went through each section of the rubric and the different sections of the exam.
- By Sian D'souza on 29th August 2016
I received tutoring from Education Quarter throughout years 11 and 12. Erenie was able to direct me on how to prepare for school assignments, trials and the HSC. She helped me understand the course modules and develop my creative writing, comprehension and essay writing skills. Im very pleased with my results and I highly recommend EQ.
- By Emma Denton on 29th August 2016
Write a review
Character references
Write a reference
Services
One-to-one tuition
Group tuition
Teaching studio
Subjects
Aboriginal Studies Life Skills
Agriculture Life Skills
Ancient History
Automotive
Business & Economics Life Skills
Business Services
Business Studies
Business and management
Citizenship & Legal Studies Life Skills
Commerce
Community & Family Studies
Community & Family Studies Life Skills
Construction
Creativity, action, service (CAS)
Dance Life Skills
Design & Technology Life Skills
Drama
Drama Life Skills
Economics
Electrotechnology
English
English Life Skills
English Studies - Pilot Study
English as a Second Language
Entertainment Industry
Environmental systems and societies
Extended essay (EE)
Financial Services
Food Technology Life Skills
Fundamentals of English
Geography
Geography Life Skills
Global politics
HSC English Extension 1
HSC English Extension 2
HSC History Extension
History
History Elective
History Life Skills
Hospitality
Human Services
Industrial Technology Life Skills
Information & Digital Technolgy
Information Processes & Technology Life Skills
Information technology in a global society (ITGS)
Legal Studies
Mathematical Studies SL
Mathematics
Mathematics Extension 1
Mathematics Extension 2
Mathematics General
Mathematics HL
Mathematics Life Skills
Mathematics SL
Metal & Engineering
Modern History
Music Life Skills
Personal Development, Health & Physical Education
Personal Development, Health & Physical Education Life Skills
Philosophy
Primary Industries
Psychology
Retail Services
Science Life Skills
Social and cultural anthropology
Society & Culture
Society & Culture Life Skills
Studies Of Religion
Studies of Religion 1 Life Skills
Studies of Religion 2 Life Skills
Textiles & Design Life Skills
Theory of knowledge (TOK)
Tourism & Events
Tourism, Travel & Events
Visual Arts Life Skills
Work & The Community Life Skills
World religions
Tutoring students in
Year 12
Year 11
Year 10
Year 9
Year 8
Year 7
International Baccalaureate
Irene can be found among