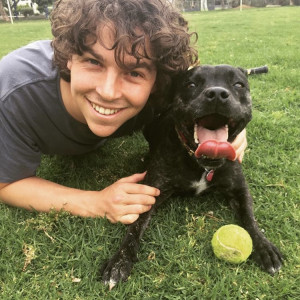 Verified mobile
Verified marks
References
Reviews
Travel policy
Willing to travel within Elwood/local suburbs/most suburbs not too far away to a student's home. If travel time is reasonably lengthy then there may be a small additional charge added on top of my hourly rate.
About
Hey there!

Thanks for clicking on my listing even though you saw that unfortunate face :)

My name's Nick and I'm a third (and final) year University Student at the University of Melbourne, studying a Bachelor of Arts course. My major is in English Studies and my minor is in Indigenous Studies.

I finished VCE in 2014.

I loved school and so a major part of why I want to tutor students is because I enjoy learning and the satisfaction that comes with doing well at school. I want my students to experience that same feeling and learn to appreciate the process of getting better! There's always more to improve and for me that's a really great thing.

Growing up, my favourite subject was always English and then in later years, this extended to a love for Literature. I've always loved reading and writing and really envy people who can articulate themselves on paper what so many people struggle to say.

I'd work hard to not only improve student's abilities and enable them to do the best they can do, but also develop an appreciation for these great subjects, which I believe then leads to better marks.

As part of my role at Caulfield Grammar School's campus in Nanjing, China in 2015 - the only campus of its kind in the world - I was required to teach young students various subject matter as a part of their experience in China, mainly involving Chinese history and language. Not only was this a great experience in learning about the world and young people, but also how to best communicate and go about my job in order to get the most out of a student. I found this immensely rewarding - watching a student get more out of his or her self than they ever thought possible.

As a result, I want to be a secondary teacher and will undertake a Masters of Teaching after my current course.

Also, my role as Captain of the School at Caulfield Grammar in my final year taught me a great deal in maintaining and working on important relationships, and building strong rapport with individuals, which is obviously an integral part of tutoring. Without a great relationship, improved marks aren't possible and tutoring is pointless.

Having tutored numerous students over the course of the last couple of years with immensely positive experiences, I have the capability to cater to all different types of situations, abilities and ages (having tutored every year level from Year 7-12). In turn, hopefully the student and parents can feel a sense of ease. Part of my tutoring is that the student feels they can turn to me whenever they need help, so with this in mind I offer 7 days a week email and phone support if needed.

Below are some reflections on my tutoring from past students and parents:

"Nick tutored our daughter through VCE in 2017 in English and English literature. There is no doubt Nick played a major role in seeing our daughter succeed in both subjects. Nick demonstrated a great commitment and passion in in his work. He had a thorough understanding of content and tailored it to her learning style. Highly reliable, punctual and courteous not to mention a great sense of humour, we wish Nick all the success in the future."

"Nick was always so supportive and encouraging of my work and abilities and was always there to help when needed. I couldn't have done what I did in year 12 without his constant support and assistance!"

"Always punctual and always well prepared to help my daughter with her English work. Down to earth and very easy to communicate with!"

Looking forward to hearing from you!

Nick
Achievements
School Captain - Caulfield Grammar School (2014)
Resident Trainee - Caulfield Grammar School's Nanjing Campus (2015)
Member of School Committee - Caulfield Grammar School (2014)
Member of APS Foundation (2014)
Year 12 Speech Night Prize for Captain/s of the School (2014)
Certificate of Excellence at the Gold Level (2014)
Accredited Working With Children Check
Education
Year 12 completed in 2014.
Mark achieved: 96.05 (verified).
Currently studying Bachelor of Arts at University of Melbourne.
Interests
Travelling
Reading and writing
Spending time with my friends and my family
Sport - tennis and football
Films
Music
---
Reviews
Nick has been tutoring Jacob in English and I have seen a dramatic improvement in Jacobs ability to write and a marked improvement in his comprehension and ability to create a story with good ideas. Jacob's grammar and use of vocabulary has also improved significantly. Nick connected well with Jacob and focused Jacob in the lesson resulting in an improved learning style and increase in confidence. I would highly recommend Nick to anyone with a student that would like to grow and develop in English.
- By Sarah Harland on 13th November 2016
Nick has been tutoring my year 8 son, Lachlan, for most of 2016 and it has been a great experience. They have built a strong rapport and Lachlan's English, particularly written English, has improved considerably. Nick is patient, polite, punctual and a very good tutor and I have no hesitation in recommending him.
- By Stephen Green on 23rd October 2016
Write a review
Character references
I worked with Nick in China in 2015.

He was absolutely amazing with our year 9 students, and a reliable, responsible and hard-working colleague.

Nick related well with his students and was very patient and thorough when teaching new concept and skills. He was genuine and humorous, and had a way of bringing the best out of the students he worked with.

If you're looking for a tutor that will go above and beyond, and will get the best out of your child, then Nick is your guy!

Danni Feldman
Chinese Language/Humanities Teacher

- By Dannielle Feldman on 28th September 2016
Nick and I worked together in China during 2015. He was reliable, friendly and enthusiastic, regularly assisting year 9 students with various scholastic needs.
If you are looking for a tutor who will go out of his way to help your son/daughter with their academic requirements, then Nick is a perfect choice.

Adrian Donnelly
English/Humanities teacher

- By Adrian Donnelly on 23rd September 2016
I worked with Nick for 12 months in 2015, and found him to be an excellent teacher. We worked primarily with year 9 students, and when he was teaching he was amicable, but professional at all times. Nick worked hard to prepare for every lesson he taught and took great pride in delivering his lessons in an engaging way.

He is an excellent choice for a tutor and I would highly recommend him.

Jenny Krohn
Science/Maths teacher
7 years' teaching experience
- By Jenny Krohn on 21st September 2016
Write a reference
Services
One-to-one tuition
Home visits
Phone help
Subjects
English
English Literature Unit 1
English Literature Unit 2
English Literature Unit 3
English Literature Unit 4
English Unit 1
English Unit 2
English Unit 3
English Unit 4
Tutoring students in
Year 12
Year 11
Year 10
Year 9
Year 8
Year 7