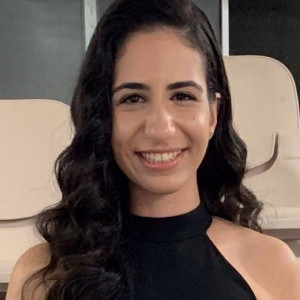 Verified mobile
Verified marks
References
Reviews
Availability
Around Bankstown
Monday

3:00 PM - 6:00 PM
Tuesday

2:00 PM - 10:00 PM
Wednesday

4:00 PM - 10:00 PM
Thursday

2:00 PM - 10:00 PM
Saturday

10:30 AM - 3:30 PM
Travel policy
Contact me for details.
About
Hi! I am a second year law student at the University of New South Wales (UNSW) studying a Bachelor of Laws/Bachelor of Arts, majoring and minoring in English Literature and Modern History, respectively.

I am an experienced, professional tutor, and offer tutoring in English (Standard, Advanced and Extension 1), Modern History and Legal Studies, and have been tutoring for approximately 2 years, both privately and with a company. Since I began tutoring, I have helped over 40 students, ranging from years 3-12.

2016 Highlights -
Advanced English/Extension English 1 student Maria Nicodemou achieved band 6s in both Advanced English (90/100) and English Extension 1 (47/50); Advanced English student Katerina received a high band 5 in Advanced English (87/100), her mark escalating after only a few weeks of group tutoring! (please look below for reviews).

I completed the HSC in 2015 as DUX of my school, with an ATAR of 96.65 and band 6s (above 90) in all 4 units of English that I completed, Modern History and Legal Studies. I also achieved a mark of 86/100 in the UNSW Law Admissions Test (LAT), ranking me in the 94th percentile, and was a recipient of the UNSW Academic Achievement Awards (AAA) Scholarship in 2015, as well as the Teradata International Scholarship in 2015. Currently, I hold a 6.2 (out of 7) GPA at university, distinction average.

Having completed the HSC in recent years, I completely understand the stress students are under, and the great demand that is placed on them. Consequently, I understand how to work with students in order to maximise marks and allow them to work to the best of their abilities and beyond.

When tutoring, I will focus on enhancing your understanding of the subject itself, and utilise my large base of resources to allow you to apply and develop your skills. Using the English, History and Legal skills I have learnt both at school and in university, I will help you achieve your greatest potential; having been tutored by an Advanced/Extension 1 English HSC marker for 3 years, I know what you need to do to get the marks you want.

I also help my students with assignments, essay writing, creative writing and exam preparation, providing annotated commentary. As an English major at university, my feedback is extensive, accurate and extremely reliable.

I have a Working With Children Check.

PRICING
One-on-one Tutoring
Years 10-12 - $60

Group Tutoring (3 or more students - grab a group of friends!)
Years 10-12: $45 per person for 2 hours
Achievements
School DUX 2015 - highest ATAR
School Prefect
Peer Support Leader
86/100 in UNSW Law Admissions Test (94th percentile)
Band 6s -
English Advanced (93/100)
English Extension 1 (48/50)
English Extension 2 (48/50)
Modern History (94/100)
Legal Studies (90/100)
https://www.boardofstudies.nsw.edu.au/ebos/static/DSACH_2015_12_G4.html
HSC Distinguished Achievers List
Recipient of the UNSW Academic Achievement Awards (AAA) Scholarship 2015
Recipient of Teradata International Scholarship 2015
Nominated for the University of Sydney School Dux Scheme (2015)
Year 12- 1st English Advanced, English Extenion 1, English Extension 2, Modern History; 2nd Legal Studies
6.2 University GPA (Distinction Average)
Education
Year 12 completed in 2015.
Mark achieved: 96.65 (verified).
Currently studying Bachelor of Arts/Bachelor of Laws at The University of New South Wales.
Interests
Reading
Writing
Cooking
Greek
Piano
Netball
---
Reviews
Georgia is an amazing tutor who always takes the time and effort to explain and analyse texts. Being tutored by her for the past 2 years in Advanced English, she has developed my English skills and supported me through my senior years. It is clear that Georgia is an extremely talented tutor and has a passion for English. I cannot thank her enough for everything that she has done, and would highly recommend her to any student that is looking for a tutor!
- By Kristina on 13th November 2017
Georgia has been an amazing tutor throughout my whole HSC course. She has tutored me in both Modern History and English Advanced, aiding me in not only developing and refining my literacy skills but also supported me through providing excellent resources. Georgia always came with a positive and enthusiastic attitude which never failed to inspire me to work harder. I can not thank her enough for all of her hard work and time invested into me and would highly recommend her to any student seeking a well organized and punctual tutor.
- By Jasmine D on 10th November 2017
Having completed the HSC in 2016, I was able to recieve a Band 6 (90) in English Advanced and an E4 in English Extension 1 (47). I really and truly wouldn't have achieved these marks without Georgia's love, dedication and wisdom. I was really struggling with English in year 11 and 12; was at the bottom of my class in Extension English and getting 70s and 80s throughout the year in advanced. When Georgia came along - well, what can I say! I am so grateful for her help.
- By Maria on 15th December 2016
Georgia is passionate, engaging and extremely knowledgeable. Her resources are fantastic, as is her ablity to explain complex concepts. I highly recommend English group tutoring as I was able to learn in a completly open and relaxed enviroment, with the added benefit of learning from my peers.
- By Katerina on 17th September 2016
I never really had a passion for English but faced with the HSC I found having a tutor who knew all the ropes of gaining a Band 6 in English really helpful. I spent a fair bit of time with Georgia and she helped to push my basic knowledge of various modules to a higher level. Georgia is a lovely person and I'm grateful for her effort and genuine care during the time I spent with her.
- By Catherine on 30th June 2016
Georgia is an amazing tutor, she has helped me over the last few months and I cannot thank her enough. The amount of effort she puts into teaching me, as well as her patience is amazing. Georgia is extremely talented and it's clear she has a passion for English.
- By on 27th June 2016
Georgia is an amazing tutor. She explains texts and work very well and is also very patient. She has helped me improve in english over the last few months.
- By Melodie on 20th April 2016
Write a review
Character references
Georgia's outstanding personal qualities and academic skills I have witnessed from a teachers perspective. Her positive attitude, dedication and patience are qualities that make Georgia an excellent tutor.
- By Anastasia Prevezanos on 19th April 2016
Write a reference
Services
One-to-one tuition
Group tuition
Home visits
Teaching studio
Phone help
Online help (Skype)
Subjects
English
HSC English Extension 1
Legal Studies
Modern History
Georgia can be found among