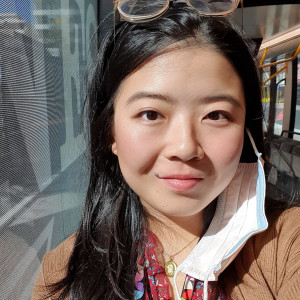 Verified mobile
Verified marks
Reviews
Availability
Around Kensington
Sunday

1:00 PM - 4:00 PM
Travel policy
Lessons will be held at UNSW Tyree building or the Chemical Sciences building
About
*LEARN FROM THE BEST*
Awarded FOUR prizes and scholarships by UNSW for outstanding academic excellence in Chemistry (see achievements below).

UNSW B. Adv Sci (Hons), Major in Chemistry. Graduated with First Class Honours and High Distinction.

Tutoring for over 3 years, specialising in HSC Mathematics (2U) and Chemistry, with experience in University level tutoring also: https://studentvip.com.au/tutors/8211/rebecca

HSC 2014, ATAR 94.60.
-Band 6/E4 in Chemistry, 2U and 3U Maths

Students will be taught with heavy focus on problem-based learning to apply existing knowledge and develop critical thinking skills. Lessons are customised to students areas of concern and style of learning.

Hourly rates: $50 (year 10), $60 (year 11 and 12).

Group tuition is available for Year 7-9 (max. 4 students per session), please contact me for more details.

I currently hold a valid Working With Children's Check. Feel free to contact me if you have any questions :)
Achievements
UNSW Chemical Society Dwyer Prize 2017
UNSW Chemistry Society George Wright Prize 2016
UNSW Howard Prize for Level 2 Inorganic Chemistry 2016
UNSW Howard Bequest Undergraduate Award 2018
First Class Honours
2014 HSC Distinguished Achiever
Rose Bay Secondary College Medal
Academic Excellence 2014 (Top 5 in 3 subjects)
Academic Excellence 2013 (Top 5 in 5 subjects)
Education
Year 12 completed in 2014.
Mark achieved: 94.60 (verified).
Currently studying Advanced Science (Honours) at The University of New South Wales.
---
Reviews
Rebecca is a great tutor that I would highly recommend. I almost gave up on maths, but after taking lessons with her, I was confident in answering even difficult maths questions. I went from 34/100 to 72/100 for my 2u maths in just 3 weeks.
- By Caroline on 10th February 2018
I would recommend Bec very greatly to whoever is in need of a tutor. She provided very great content in subjects both math and chemistry. Very diligent in helping you understand difficult questions, I was failing maths and chemistry in the theory side of things. Usually ranging around from 20-40 precent but through the help of Bec I was able to pass both exams from achieving 23/100 in 2U math trials to 65/100 in the 4 week period of tutoring and from 37/100 in Chemistry to 67/100. I believe that if I had started studying with the help of Bec a couple of months before hsc I could have achieved 70-80% in both Maths and Chemistry.
- By Kevin Barrientos on 9th February 2018
Write a review
Character references
Write a reference
Services
One-to-one tuition
Group tuition
Subjects
Chemistry
Mathematics
Mathematics General
Science
Tutoring students in
Year 12
Year 11
Year 10
Year 9
Year 8
Year 7
International Baccalaureate
Rebecca can be found among