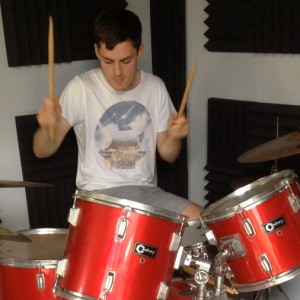 Verified mobile
Verified marks
Availability
Around Toowong
Monday

4:00 PM - 6:00 PM
Tuesday

4:00 PM - 5:00 PM
Wednesday

5:15 PM - 7:00 PM
Thursday

3:30 PM - 5:00 PM
Friday

3:30 PM - 6:00 PM
Saturday

9:00 AM - 7:00 PM
Around Indooroopilly
Monday

4:00 PM - 6:00 PM
Tuesday

4:00 PM - 5:00 PM
Wednesday

5:30 PM - 7:00 PM
Thursday

3:30 PM - 5:00 PM
Friday

3:30 PM - 6:00 PM
Saturday

9:00 AM - 4:00 PM
Travel policy
I've been riding my bike or catching public transport. I currently meet with students at the Toowong and Indooroopilly Libraries.
About
Do I really look that intense when I'm jamming?
...Anyway...
My name is Joe and I'm a tutor who is ready and able to help!

I'm going into my third year of an Engineering and Business degree at QUT, I'm approachable, easy to talk to and can relate to the pressures of high school.

I started tutoring in 2016 when I moved to Brisbane from Toowoomba to study. I have helped students in years 7 - 12 from schools including Brisbane Boys College, St Peter's Lutheran College, Brisbane Grammar, Brisbane Girls Grammar, Indooroopilly State High, St Joseph's College Gregory Terrace and Ashgrove Marist College.

I specialise in Science and Maths as this is an area of learning that I am passionate about. I can also provide support for junior level history, French and English.

During high school, I often helped my classmates and my sister who is three years younger than me. I understand every person learns differently and can benefit from different perspectives on the curriculum.

I was awarded dux of my college, achieved an OP 1, VHAs in all of my subjects and was awarded a Vice Chancellor's Academic Scholarship to study at QUT. I currently have a GPA of 6.5 on a 7 point scale.

If you have any questions, please feel free to contact me.
I hope to hear from you soon.
Achievements
• Dux of St Joseph's College, Toowoomba, 2015
• Tertiary Entrance Statement OP 1
• Top of Subject: Chemistry, Mathematics B, Physics, Mathematics C and French 2015
• QCAA Certificate of Academic Commendation for Very High Achievement in at least 24 semesters of Authority subjects.
• Vice Chancellor's Academic Scholarship QUT
• Science and Engineering Faculty Dean's List for Academic Excellence, 2016
• Business School Dean's List for Academic Excellence, 2016
Education
Year 12 completed in 2015.
Mark achieved: 1.00 (verified).
Currently studying Bachelor of Engineering and Business (honours) at QUT.
Interests
Running
Jamming on the drums
Soccer
Reading
Watching the cricket
Jamming on the drums
Did I already mention drums?
---
Write a review
Character references
Write a reference
Services
One-to-one tuition
Group tuition
Home visits
Subjects
Chemistry
English ESL
English Enrichment
English Essentials
English Mainstream
French
Mathematics
Mathematics B
Mathematics C
Mathematics Enrichment
Mathematics Essentials
Mathematics Mainstream
Physics
Science
Tutoring students in
Year 12
Year 11
Year 10
Year 9
Year 8
Year 7