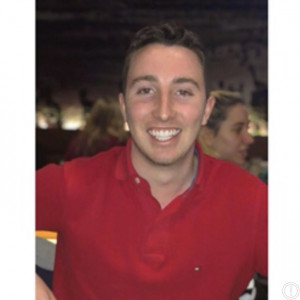 Verified mobile
Verified marks
References
Reviews
Availability
Around Hoxton Park
Sunday

9:00 AM - 5:00 PM
Monday

3:00 PM - 9:00 PM
Saturday

9:00 AM - 5:00 PM
Travel policy
20km, any further just has a $10 travel fee.
About
I'm a passionate and broadly experienced personal tutor. I'm currently studying my combined Bachelor of Laws with International Studies, along with a Diploma of Languages (French).

I did the HSC in 2015, with three band 6s and three band 5s, and ended up getting a 93.85 ATAR, which got me into my dream degree after a year of intense study and perseverance.

I'm offering my mentoring and tutoring to Year 7, 8, 9, 10, 11 and 12 students who need that switch of focus, new study technique or just a fresh perspective from someone who has been through it all and survived, so that they can get back on track and work out how to self-motivate and achieve everything that they are aiming for.

I've helped 23 students from years 3-12 in the past 3 years, building a forté in HSC and prelim study assistance. I love history, English and Studies of religion and language, and I also studied three distance education language subjects - and got 90 in all three.

With me as your mentor you'll get 1-3 hours a week of intensive study assessment, evaluation of technique, and mentoring to put yourself in the ideal mindset for your assignments, exams, and general study-load - keeping you sane against the constant pressure of school, and balancing this with your personal life. After all - at the end of the day you want to be happy and healthy!

The pricing includes the weekly tutoring sessions, out of hours assignment and study note reviews, and access to my full set of HSC study notes.

So give me a call any time of the week, I'm a friendly guy with the experience and ability to get you what you want academically. I look forward to hearing from you soon and getting you or your child's academics on the way to excellence.

Achievements
Duke of Edinburgh Award
HSC High Achiever's List
Junior Life Saver of the Year Award
3 band 6s in HSC
Translator for Marist Youth Ministry World Youth Day Tour for French
First Aid Certificate
Proficency in French Language
Proficiency in Italian Language
Proficiency in Spanish Language
First in Belambi Public Speaking 2013
Debating A Team semi finalist 2014
Second in Rostrum Public Speaking Competition 2015
Education
Year 12 completed in 2015.
Mark achieved: 93.85 (verified).
Currently studying Bachlor of Laws combined with the Bachelor of International Studies at Macquarie University.
Interests
French
Italian
Spanish
Experiencing new cultures
Travelling
Coffee
Scary movies
TV shows and cinema
Interfaith dialogue
Trying new cuisines
---
Reviews
I contacted Patrick a few weeks before the start of my HSC exams as I realised I needed help to boost my marks but I wasn't sure where. Immediately in the first lesson, Patrick identified my weaknesses and developed lesson plans that would suit me and made sure that it wasn't all too overwhelming. He helped me identify my goals and always made sure that I was working on them, as he throughly checked up. He taught me many skills that most definitely helped me boost my marks! Patrick is a wonderful tutor who always makes sure that the person he is helping is satisfied and happy.
- By Vivian Le on 21st November 2016
I came to Patrick 5 weeks before my HSC exams, wanting to maximise my marks before the final tests. He identified my strengths and weaknesses and made me focus on what was important and do-able by setting realistic goals and checking in on how I was going. He taught me many academic skills which have helped and will help me to encounter and tackle difficult situations as I head into university to do construction management. He has taught me to believe, trust myself and have full confidence everything I do and to give it my best shot. 10/10.
- By Mena Aziz on 6th November 2016
I contracted Patrick recently for some strategic and administrative work. Not only was Patrick reliable and highly motivated - he naturally identified the core issues and organised the timetable for my workload in a very effective and personable way. I personally have known Patrick for many years and I have found him to be a natural leader, focused, honest, intelligent and committed and I would strongly recommend him for coaching and tutoring your teenagers, as he is also a tremendous role model with excellent morals.
- By Louise Taylor on 25th June 2016
Write a review
Character references
he is a very funny and reliable tutor and deals with all my last minute lateness and mistakes he has helped me improve my English so much all my marks have raised. we have a friendly relationship and he gets all the young people humor he's awesomeeeeeeeee!
- By Lara on 11th January 2017
What a mature & talented young tutor Patrick is. As a parent it was imperative that I found someone extremely reliable, dedicated & willing to tailor make his sessions to get the best out of students. Since my son has been tutored by Patrick, I've seen significant improvements in both my son's positive attitude, focus & confidence to his subjects. Every student has potential, Patrick has helped my son realise he has great potential, helping him develop plans, healthy habits & that practice will get positive results. Patrick has become a great role model & dear friend, I would highly recommend his service to any student/parent.
- By Regina on 21st November 2016
Write a reference
Services
One-to-one tuition
Group tuition
Home visits
Phone help
Online help (Skype)
Subjects
Commerce
English
English as a Second Language
French
French Beginners
French Continuers
French Extension
History
History Elective
Italian
Italian Beginners
Italian Continuers
Italian Extension
Mathematics
Modern History
Science
Society & Culture
Society & Culture Life Skills
Spanish
Spanish Beginners
Spanish Continuers
Spanish Extension
Studies Of Religion
Studies of Religion 1 Life Skills
Studies of Religion 2 Life Skills
Tutoring students in
Year 12
Year 11
Year 10
Year 9
Year 8
Year 7
Patrick can be found among