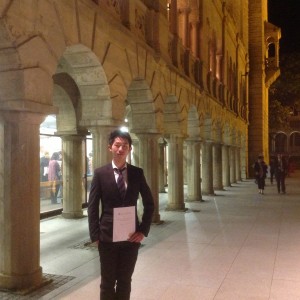 Verified mobile
Verified marks
Reviews
Availability
Around Nollamara
Sunday

9:00 AM - 9:00 PM
Monday

4:00 PM - 9:00 PM
Tuesday

4:00 PM - 9:00 PM
Wednesday

4:00 PM - 9:00 PM
Thursday

4:00 PM - 9:00 PM
Friday

4:00 PM - 9:00 PM
Saturday

9:00 AM - 9:00 PM
Travel policy
please message me on 0468589220 for detail
About
I am Yuan, studying master of electrical engineering at UWA
Achieved a WACE score of 99.2
Top Math specialist students in Year 12
I am an experienced tutor with 4 years experience on helping students preparing for WACE exam
Able to teach all high school level of Math, Math specialist, chemistry, physics and Chinese.
Please contact me on 0468589220 for more information.
Achievements
Top Math Specialist students in Churchlands Senior High School
ATAR score 99.2
enrolled in Bachelor of Philosophy(Hons) from 2013-2015
Education
Year 12 completed in 2012.
Mark achieved: 99.20 (verified).
Currently studying Master of Electrical and Electronic Engineering at The University of Western Australia.
Interests
basketball
badminton
guitar
backpacking
---
Reviews
Great tutor, excellent guy with tons of knowledge in all subjects. Would definitely suggest.
- By Lachlan Rocca on 11th July 2017
Write a review
Character references
Write a reference
Services
One-to-one tuition
Group tuition
Home visits
Teaching studio
Phone help
Online help (Skype)
Subjects
Chemistry
Chinese
Computer Science
Essential Mathematics
General Mathematics
Mathematical Methods
Mathematical Studies SL
Mathematics
Mathematics HL
Mathematics SL
Physics
Science
Specialist Mathematics
Tutoring students in
Year 12
Year 11
Year 10
Year 9
Year 8
Year 7
International Baccalaureate