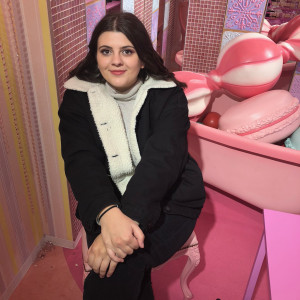 Verified mobile
Verified marks
References
Reviews
Availability
Around Croydon
Sunday

10:00 AM - 4:30 PM
Tuesday

10:00 AM - 7:30 PM
Friday

10:00 AM - 2:00 PM
Saturday

10:00 AM - 6:30 PM
Around Camperdown
Thursday

1:00 PM - 5:00 PM
Travel policy
Willing to travel to you as long as your location isn't more than 5kms away.
About
Hi I'm Amy, I'm currently studying a Bachelor of Education at the University of Sydney in hope of becoming an English and Modern History teacher. I graduated in 2016 from Meriden Senior School with an ATAR of 94.5 and received a band 6 in all my subjects (Adv. English, Modern History, Visual Arts, Design & Technology and General Mathematics).
I'm available for help in the following subjects for 1 or 2 hour sessions:
- Advanced & Standard English
- General Mathematics
- Design and Technology
- Modern History
- Visual Arts
- Other HSIE Subjects for years 7 -10

Alongside help in these subjects I can also provide assistance in time management, organisational skills and essay writing. I have retained lots of material from my own school life including textbooks, notes and my own assessment tasks which I can use to aid me in my tutoring. I'm willing to negotiate price based on your year of study and subjects. Hope to hear from you! :)
Achievements
HSC All Round Achiever 2016
HSC Prize for Design and Technology
Education
Year 12 completed in 2016.
Mark achieved: 94.50 (verified).
Currently studying Bachelor of Education (Secondary) and Bachelor of Arts (Humanities) at The University of Sydney.
Interests
Dogs
Travelling
Live Music
---
Reviews
Amy as tutored my year 12 son for several years. They have a great report and she brings out the best in his work. Amy has an ability to understand his learning style and can motivate him to get the work done.
- By Vicki Bellero on 17th March 2019
Write a review
Character references
I've known Amy N for 10 years, and she has become a great young woman. She is interesting and hard working. She is trustworthy and reliable. I have employed her in several capacities, as a tutor and and in my small business with retail sales, human relations and advertising; in each situation she is capable and confident.
- By Vicki Bellero on 17th March 2019
Write a reference
Services
One-to-one tuition
Home visits
Phone help
Online help (Skype)
Subjects
Design & Technology
English
Geography
History
History Elective
Mathematics General
Modern History
Technology (Mandatory)
Visual Arts
Tutoring students in
Year 12
Year 11
Year 10
Year 9
Year 8
Year 7