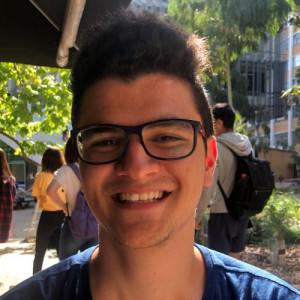 Availability
Around Parkville
Monday

3:15 PM - 5:15 PM
Monday

6:15 PM - 8:15 PM
Tuesday

12:00 PM - 6:15 PM
Wednesday

10:00 AM - 2:15 PM
Thursday

9:00 AM - 10:00 PM
Friday

11:00 AM - 2:15 PM
Friday

5:15 PM - 8:15 PM
Saturday

8:00 AM - 8:00 PM
Around Frankston
Sunday

8:00 AM - 8:00 PM
Saturday

8:00 AM - 8:00 PM
Travel policy
Willing to travel within 10km radius of Frankston and at any suitable libraries in the city.
About
My name is Kaan Karakan and I graduated VCE in 2017, achieving an atar of 90.1. I achieved high results across all subjects and am able to tutor in 3 of them (Physics, Mathematical Methods and Specialist Maths). I also am available to tutor in all maths and Science from years 5-10. I am passionate about science and maths and would love to pass on my knowledge and passion to other students.
I am currently in my second year of a Bachelor of Science degree at The University of Melbourne where I study electrical engineering and high level physics. I recently graduated VCE and therefore am well acquainted with the new study design.
Achievements
I received a total of 6 awards for excellence in my subjects while completing my VCE.
Have obtained my Certificate II in Integrated Technologies during VCE
Education
Year 12 completed in 2017.
Mark achieved: 90.10.
Currently studying Bachelor of Science at University of Melbourne.
Interests
I love reading books
I am quite sporty, like to play soccer and go to gym.
I love music in general.
---
Write a review
Character references
Write a reference
Services
One-to-one tuition
Group tuition
Home visits
Phone help
Online help (Skype)
Subjects
Mathematics
Mathematics: Mathematical Methods (CAS) Unit 1
Mathematics: Mathematical Methods (CAS) Unit 2
Mathematics: Mathematical Methods (CAS) Unit 3
Mathematics: Mathematical Methods (CAS) Unit 4
Mathematics: Specialist Mathematics Unit 1
Mathematics: Specialist Mathematics Unit 2
Physics Unit 1
Physics Unit 2
Science
Tutoring students in
Year 12
Year 11
Year 10
Year 9
Year 8
Year 7
Kaan can be found among