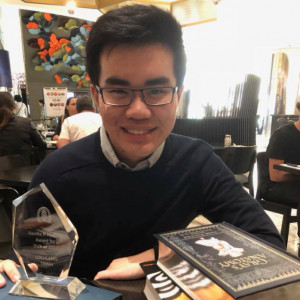 Availability
Around Melbourne
Monday

10:00 AM - 8:00 PM
Tuesday

10:00 AM - 8:00 PM
Wednesday

10:00 AM - 8:00 PM
Thursday

10:00 AM - 8:00 PM
Friday

10:00 AM - 8:00 PM
Around Williamstown
Monday

7:00 PM - 10:00 PM
Tuesday

7:00 PM - 10:00 PM
Wednesday

2:00 PM - 10:00 PM
Thursday

7:30 PM - 10:00 PM
Friday

7:00 PM - 10:00 PM
Travel policy
Preferred location is State Library or Williamstown/Altona Library. Otherwise, if you live near Williamstown, I can drive to you
About
Hi, I graduated with an ATAR of 99.60, as Dux of Westbourne Grammar School in 2017. I'm currently studying the Bachelor of Biomedicine at the University of Melbourne. ** Note: I'll be going on overseas student exchange from August-December 2019. During this time, I'll only be able to do online tutoring, at a reduced price

Being a successful student myself, I completely understand the personal needs and wants of a VCE student, whilst sharing my expertise of the subject. In my experience, I've found that my tutors have often been uninvested, boring and even unintelligible at times (especially those who have English as a second language); so I make every effort to provide students a holistic and efficient teaching method to ensure complete understanding of the concepts without any unanswered questions. I tutor each of the subjects given below at a 7-12 level. Also note that I completed all of my subjects in the current study design. Other tutors who graduated pre-2017 are likely not up to date with the new requirements of the course.

<Qualifications>
ATAR- 99.60, Dux of Westbourne Grammar 2017
VCE Study Scores (Scaled score in brackets):
Specialist Maths- 46 (54)
Methods- 46 (49)
Biology- 46 (47)
Chemistry- 45 (47)
English- 42 (42)
Each of these scores put me in the top 1~2% of the state in some of the most competitive subjects available.
I also completed Extension 1st Year Mathematics (UMEP) at The University of Melbourne and scored a High Distinction

<Services>
During our classes I will be guiding you and helping you with the following:

• Explanations of difficult concepts
• Understanding and application of concepts
• Practice questions tailored to your needs
• Correctly approaching and structuring answers to exam style questions
• Techniques for SAC and exam preparation
• Correcting practice exams and providing detailed feedback
• Effective time management strategies for SACs and exams

Students will also have access to my library of Westbourne Grammar past SACs, commercially made notes and external exam papers. I also provide extensive out-of-class help (via texts, emails or social media) at any time during the day or night for any spur of the moment questions or doubts.

I am available to tutor at Williamstown, Sunshine, Footscray or State Library on most days of the week. I can also drive to your house, which can be negotiated.

Feel free to contact me via email or mobile (tlochlan2@gmail.com // 0413652848)

** Note: I'll be going on overseas student exchange from August-December 2019. During this time, I'll only be able to do online tutoring.
Education
Year 12 completed in 2017.
Mark achieved: 99.60.
Currently studying Bachelor of Biomedicine at University of Melbourne.
---
Write a review
Character references
Write a reference
Services
One-to-one tuition
Group tuition
Home visits
Phone help
Online help (Skype)
Subjects
Biology Unit 1
Biology Unit 2
Biology Unit 3
Biology Unit 4
Chemistry Unit 1
Chemistry Unit 2
Chemistry Unit 3
Chemistry Unit 4
Mathematics
Mathematics: Mathematical Methods (CAS) Unit 1
Mathematics: Mathematical Methods (CAS) Unit 2
Mathematics: Mathematical Methods (CAS) Unit 3
Mathematics: Mathematical Methods (CAS) Unit 4
Mathematics: Specialist Mathematics Unit 1
Mathematics: Specialist Mathematics Unit 2
Science
Tutoring students in
Year 12
Year 11
Year 10
Year 9
Year 8
Year 7
Lochlann can be found among