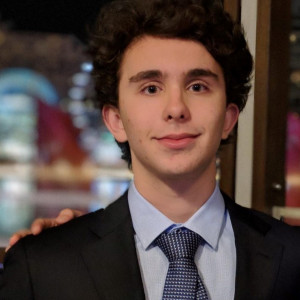 Verified mobile
Verified marks
Availability
Around Camperdown
Monday

4:00 PM - 8:00 PM
Tuesday

4:00 PM - 8:00 PM
Wednesday

4:00 PM - 8:00 PM
Thursday

4:00 PM - 8:00 PM
Friday

4:00 PM - 8:00 PM
Saturday

10:00 AM - 6:00 PM
Around Miranda
Sunday

10:00 AM - 6:00 PM
Saturday

10:00 AM - 6:00 PM
About
I'm Nick Testa, an IB graduate who scored a perfect 45/45 (99.95 ATAR), and Dux of the Trinity Grammar School 2018 IB cohort, which contained 9 students who all scored 45. Against this strong competition, I won subject prizes in Mathematics, Physics, Economics, History, Classical Latin, and Theory of Knowledge.

My final exams results were 7s in all subjects I took (HL Mathematics, Economics, English Literature | SL Physics, Latin, History) and As in both Theory of Knowledge and my Extended Essay in Classical Latin. I scored on average 10 marks over the required grade 7 boundary, demonstrating the highest levels of achievement.

I am currently studying a Bachelor of Economics and Bachelor of Advanced Studies combined degree at the University of Sydney on a full scholarship, with double majors in Economics and Mathematics. I also hold an unconditional offer for further studies in Economics at the prestigious London School of Economics.

WHAT I OFFER

Tailored IB subject tutoring in:
Math SL/HL
English Literature/Language and Literature SL/HL
Economics SL/HL
Physics SL
Latin SL
History SL
Theory of Knowledge Presentation and Essay

Having duxed my cohort every year throughout high school, I can offer premium tutoring in earlier high school (years 7-10) for all subjects, and subject selection advice for students soon to begin the IB.

Whilst the IB can appear quite demanding, with the right help and personal commitment huge improvements and a score above 40 (98 ATAR) can be a reality for anybody. I know what an incredibly demanding program the IB is, and hope to be a friendly and reliable face that my students can turn to if overloaded academically, or emotionally.

LOCATION

As I am living on campus, preferred location is at or around the University of Sydney (Camperdown/Inner West area), however I am willing to travel further upon request (please contact me for inquiries). I also conduct Skype tutoring sessions if this is more convenient.

PRICE

I charge $60/hour for sessions in person (happy to accomodate sessions between 1-2 hours in length) and $50/hour for sessions over Skype.
Achievements
Dux of Trinity Grammar School 2018
HL Mathematics Prize
HL Economics Prize
Physics Prize
Classical Latin Prize
Theory of Knowledge Prize
History Prize
University of Sydney Chancellor's Award Scholarship
ANU National University Scholarship
Education
Year 12 completed in 2018.
Mark achieved: 99.95 (verified).
Currently studying Bachelor of Economics, Financial Mathematics, and Statistics at The University of Sydney.
---
Write a review
Character references
Write a reference
Services
One-to-one tuition
Group tuition
Online help (Skype)
Subjects
Economics
Extended essay (EE)
History
Latin Continuers
Latin Extension
Mathematics
Mathematics Extension 1
Mathematics HL
Mathematics SL
Physics
Theory of knowledge (TOK)
Tutoring students in
Year 12
Year 11
Year 10
Year 9
Year 8
Year 7
International Baccalaureate