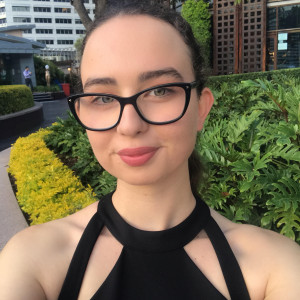 Availability
Around Hornsby
Sunday

1:00 PM - 8:00 PM
Tuesday

2:00 PM - 4:00 PM
Tuesday

7:00 PM - 8:00 PM
Thursday

3:00 PM - 8:00 PM
Friday

3:00 PM - 8:00 PM
Saturday

8:00 AM - 12:00 PM
Around Macquarie Park
Sunday

1:00 PM - 8:00 PM
Tuesday

2:00 PM - 4:00 PM
Tuesday

7:00 PM - 8:00 PM
Wednesday

3:00 PM - 8:00 PM
Thursday

3:00 PM - 8:00 PM
Friday

3:00 PM - 8:00 PM
Saturday

8:00 AM - 8:00 PM
Travel policy
You and I both travel to a public tutoring location. I can also tutor you in your home if that is preferable.
About
Hi! My name is Sarah and I am currently a student at Macquarie University studying a Bachelor of Arts/Bachelor of Law. I completed the HSC in 2017 and achieved an ATAR of 97.60 as well as 5 band 6 results and a place in the Textiles and Design showcase, Texstyle. The results I achieved in my HSC were: Advanced English 97, Modern History 91, Legal Studies 94, Textiles and Design 92 and Biology 90. I currently have just over 2 years tutoring experience, working with students aged from primary to Preliminary and HSC ages. I thoroughly enjoy tutoring and I always strive to give my students a sense of pride and fulfilment in their work.

I also have a valid Working with Children Check!

If you are interested in achieving success in your school work, please feel free to send me message or email me at sarah.pardy28@gmail.com
Achievements
In 2017 I achieved an ATAR of 97.60
I achieved 5 band 6 results and a place on the 2017 HSC All Rounders List.
Education
Year 12 completed in 2017.
Mark achieved: 97.60.
Currently studying Bachelor of Arts/Bachelor of Law at Macquarie University.
Interests
My hobbies include: swimming, reading, baking, playing the piano and paddle boarding.
---
Write a review
Character references
Write a reference
Services
One-to-one tuition
Group tuition
Home visits
Teaching studio
Phone help
Online help (Skype)
Subjects
Biology
English
English as a Second Language
Fundamentals of English
HSC English Extension 1
HSC English Extension 2
History
History Elective
Legal Studies
Modern History
Senior Science
Textiles & Design (Textiles Technology)
Textiles & Design Life Skills
Visual Arts
Tutoring students in
Year 12
Year 11
Year 10
Year 9
Year 8
Year 7