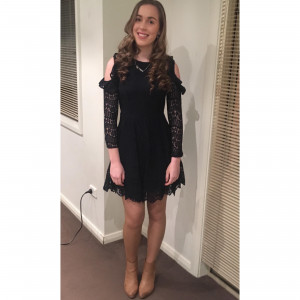 Availability
Around West Wollongong
Sunday

9:00 AM - 5:00 PM
Monday

5:30 PM - 8:00 PM
Tuesday

9:00 AM - 8:00 PM
Wednesday

9:00 AM - 8:00 PM
Thursday

2:30 PM - 4:00 PM
Friday

1:30 PM - 4:00 PM
Saturday

9:00 AM - 5:00 PM
Travel policy
While I would prefer to tutor in the library of the University of Wollongong, I can make home visits anywhere in the Wollongong region if that suits your lifestyle better. I am typically available on weekday afternoons and evenings, depending on my university timetable. Don't hesitate to contact me for availabilities and any further questions.
About
Hi, my name is Jess and I am currently enrolled in the Bachelor of Mathematics Education (Dean's Scholar) having been accepted into this degree at the start of 2017. During my first two years of study, I have achieved many strong results in a number of subjects, culminating in a number of High Distinction and Distinction grades. I have also been successful in receiving several academic scholarships (Secondary Mathematics Scholarship, Teach.NSW) and have received multiple prestigious university academic awards (Dean's Scholar Award, Secondary Mathematics Scholarship Award). Furthermore, during my HSC year at High School I received multiple academic accomplishments: DUX Award, ranked first in Advanced and Extension Mathematics, Advanced and Extension English, Chemistry and Biology, the Certificate of Excellence Award and the School Vice-Captain.

While I am an enthusiastic, confident and creative mathematician, I also have a strong commitment to teaching. An enthusiasm for learning and deep commitment to humanity and making a difference in the lives of the next generation, are a few of many reasons, I have developed to becoming an educator. I value education and equality and thus, am inspired and motivated in becoming a stable role model and educator that will shape the future of our children. I hope to cultivate my love of learning and mathematics and instil this into my students. I look forward to having the opportunity to transfer this passion, curiosity and improved results and possibly obtaining various insights and perspectives in return.

I have close to two years' experience with tutoring high school students of differing ages and academic capabilities. I have additionally had active experience in teaching mathematics in a high school classroom, working as a swim instructor and currently working as an intern at Science Space. During this time, I have strengthened and developed vital skills such as; understanding, patience, communication skills, compassion, determination, friendliness and flexibility depending on each child's individual values, feelings, motivations and academic needs. I aim to instil such skills, including confidence, self-motivation and an enthusiasm for mathematics and learning, in all my students. I also have a valid Working With Children's Check.

If you have any additional questions or comments, feel free to contact me.
Achievements
Dean's Scholar Award
Secondary Mathematics Scholarship Award
Teach.NSW Scholarship
Selection of High Distinction and Distinction grades in education and mathematics university subjects
Dux of Griffith High School
Ranked first in Advanced English, Extension English, Mathematics, Extension Mathematics, Chemistry and Biology in year 11 and 12
School Vice Captain
Education
Year 12 completed in 2015.
Mark achieved: 93.20.
Currently studying Bachelor of Mathematics Education (Dean's Scholar) at University of Wollongong.
---
Write a review
Character references
Write a reference
Services
One-to-one tuition
Group tuition
Home visits
Phone help
Subjects
Mathematics
Mathematics Extension 1
Mathematics Extension 2
Mathematics General
Tutoring students in
Year 12
Year 11
Year 10
Year 9
Year 8
Year 7
Jessica can be found among