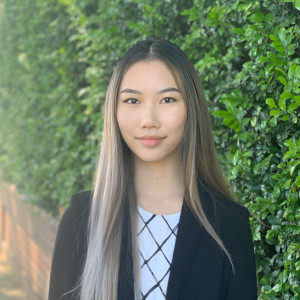 Verified mobile
Verified marks
Availability
Around Strathfield
Sunday

9:00 AM - 5:00 PM
Monday

10:00 AM - 7:00 PM
Tuesday

11:00 AM - 6:00 PM
Wednesday

11:00 AM - 6:00 PM
Thursday

10:00 AM - 7:00 PM
Around Kensington
Tuesday

3:00 PM - 7:00 PM
Wednesday

4:30 PM - 7:30 PM
Friday

4:00 PM - 7:30 PM
Travel policy
Burwood/Strathfield area or UNSW/State Library but I am flexible with travel so feel free to message me
About
Hi guys! I'm Nikkie and I graduated from Meriden in 2018 with an ATAR of 99.25, and I'm currently studying a Bachelor of Commerce/Bachelor of Laws at UNSW.

I'm offering one-on-one and group tutoring for prelim and HSC:
- English
- Mathematics and Mathematics Extension 1
- Legal Studies
- Ancient History
- Food Technology

My 2018 HSC examination marks were:
- English Advanced (94)
- Ancient History (94)
- Food Technology (94)
- Legal Studies (92)
- Mathematics Extension 1 (96)
- Mathematics Extension 2 (91)

I'm also offering tutoring for years 7-10 Maths and English (for $50 an hour) and essay marking for Legal, Ancient, Food Tech and English on an essay-by-essay basis ($30 for each essay and $5 for each re-mark), if you don't want to commit to a tutoring session. However, if you do want classes, detailed essay marking with comprehensive feedback is included in the class rate.

I am passionate about all of my subjects and I have a plethora of tips for time management, exam technique and essay writing especially for Ancient and Legal. As someone who did a range of very different subjects for my HSC which were all demanding in different ways, I developed various approaches for each one, and I'm more than happy to help you with homework or exam preparation so you can similarly balance your work.

I also hope I can help motivate you as this is something I struggled with in my HSC year, as well as offer assistance in other areas of your schooling life.

I'm located in the Inner-West, mostly the Burwood/Strathfield area, but I can also do Skype sessions for those who would prefer not to travel.
Please feel free to contact me at 0450318288, or email at nikkiew1@gmail.com for any additional inquiries!
Achievements
HSC All Rounder
HSC Distinguished Achiever
ATAR 99.25
Education
Year 12 completed in 2018.
Mark achieved: 99.25 (verified).
Currently studying Bachelor of Commerce/Bachelor of Laws at The University of New South Wales.
---
Write a review
Character references
Write a reference
Services
One-to-one tuition
Group tuition
Phone help
Online help (Skype)
Subjects
Ancient History
English
Food Technology
History
History Elective
Legal Studies
Mathematics
Mathematics Extension 1
Tutoring students in
Year 12
Year 11
Year 10
Year 9
Year 8
Year 7
Nikkie can be found among