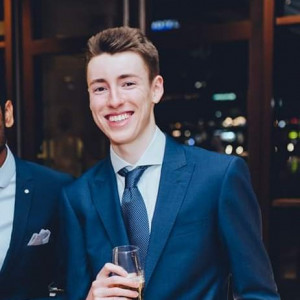 Verified mobile
Verified marks
Availability
Around Beecroft
Sunday

7:00 AM - 9:00 PM
Monday

7:00 AM - 9:00 PM
Tuesday

7:00 AM - 9:00 PM
Wednesday

7:00 AM - 9:00 PM
Thursday

7:00 AM - 9:00 PM
Friday

7:00 AM - 9:00 PM
Saturday

7:00 AM - 9:00 PM
Travel policy
If you live too far from UNSW or my own house, it may not be realistic for me to tutor you. Please get in touch to discuss arrangements.
About
Hi! My name's Robbie and I got an ATAR of 99.75 in 2018. I'm offering tutoring for all years K-12 in the subjects shown below. Being a current medical student at UNSW, I also tutor people for the UCAT and interviews, along with other aspects of medicine admissions. I am very passionate about teaching, highly punctual, and offer a very competitive hourly rate for my HSC credentials:

English Advanced - 97
Economics - 95
Biology - 94
Chemistry - 93
Mathematics Extension 2 - 90
Mathematics Extension 1 - 92

Perks:
- Experienced private tutor
- Topics will be covered faster and more in-depth than tuition companies.
- Detailed notes for every subject
- Past Papers from every school
- Majority of popular textbooks
- Can assist with medicine entry and HSC

I am available on most weekdays and on all weekends and am more than happy to drive to your house. Hopefully I can help you out this year!
Achievements
99.75 ATAR
HSC All-Rounder
HSC Distinguished Achiever
93rd percentile in UMAT
1st at Barker for Biology
2nd at Barker for Economics
2nd at Barker for Chemistry
4th at Barker for English
Education
Year 12 completed in 2018.
Mark achieved: 99.75 (verified).
Currently studying Doctor of Medicine at The University of New South Wales.
Interests
Tennis
Game of Thrones
Basketball
---
Write a review
Character references
Write a reference
Services
One-to-one tuition
Group tuition
Home visits
Phone help
Online help (Skype)
Subjects
Biology
Chemistry
Chinese
Commerce
Economics
English
Mathematics
Mathematics Extension 1
Mathematics Extension 2
Mathematics General
PDHPE
Science
Tutoring students in
Year 12
Year 11
Year 10
Year 9
Year 8
Year 7
Robbie can be found among