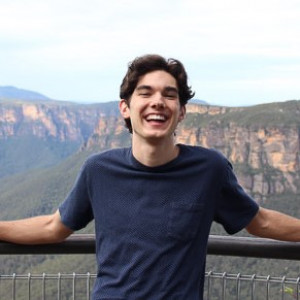 Availability
Around Kenthurst
Sunday

9:30 AM - 1:00 PM
Monday

3:00 PM - 9:00 PM
Tuesday

3:00 PM - 6:45 PM
Wednesday

3:00 PM - 4:30 PM
Friday

4:00 PM - 9:00 PM
Around Macquarie Park
Tuesday

3:00 PM - 7:30 PM
Travel policy
I will travel up to 20kms if tutoring near my home address. However, I ask students to travel to Macquarie University's library if tutoring at or around Macquarie Uni
About
I have three years of freelance tutoring experience under my belt, with more than a year of experience working with InFlow Education. I am different from most other tutors, in that most of my students actually look forward to tutoring. I believe in the power of self motivation, and some of the best results I've seen have come from students feeling confident in themselves, and pushing themselves to achieve a goal. I encourage and hold students accountable, and don't crack a whip, and as a result, my students put in effort which is their own and no one else's.
Achievements
Prefect
High School English Medal
Lead in School Musical
State level Cross Country
Education
Year 12 completed in 2017.
Mark achieved: 98.20.
Currently studying Psychology and Human Science at Macquarie University.
Interests
Reading
Musical Theatre
Just Dance on the Wii
---
Write a review
Character references
Write a reference
Services
One-to-one tuition
Group tuition
Home visits
Phone help
Online help (Skype)
Subjects
Drama
English
HSC English Extension 1
Mathematics
Mathematics General
Science
Tutoring students in
Year 12
Year 11
Year 10
Year 9