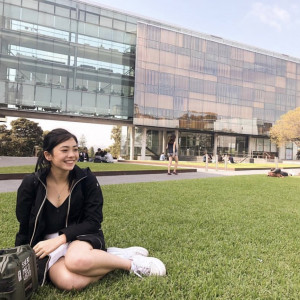 Availability
Around Edgecliff
Sunday

7:00 AM - 9:00 PM
Monday

2:30 PM - 5:45 PM
Wednesday

2:30 PM - 7:00 PM
Thursday

2:30 PM - 9:00 PM
Friday

2:30 PM - 9:00 PM
Saturday

7:00 AM - 9:00 PM
Around North Sydney
Sunday

7:00 AM - 9:00 PM
Saturday

7:00 AM - 9:00 PM
Travel policy
I am happy to come to your home, as long as it is accessible by either bus or train. If not, I'm also happy to meet at a convenient library
About
Hi, I'm a second year Media & Communications dalyell scholar at the University of Sydney. I've been tutoring for a year now, both with a company and privately. I'm passionate about English, Maths and French, having completed English extension 1, Maths extension 2 and French extension 1 for the HSC in 2017. I love working with students of all ages, with experience tutoring students from the ages of 6 to 18. I understand the importance of tailoring sessions to your child's needs and adapting sessions so that your child has the most rewarding and enjoyable learning experience.

Please don't hesitate to contact me with any queries you may have as I would be happy to answer them! I'm also happy to negotiate rates if that is an issue.
Achievements
Band 6s and E4s in English, French and Maths
Distinction Average during First Year
Education
Year 12 completed in 2017.
Mark achieved: 98.20.
Currently studying Media and Communications at The University of Sydney.
Interests
Swimming
Music (piano)
Digital media
---
Write a review
Character references
Write a reference
Services
One-to-one tuition
Home visits
Phone help
Online help (Skype)
Subjects
English
Food Technology
French
French Beginners
French Continuers
French Extension
Geography
HSC English Extension 1
History
Mathematics
Mathematics Extension 1
Music
Photography & Digital Media
Science
Tutoring students in
Year 12
Year 11
Year 10
Year 9
Year 8
Year 7
Deirdre can be found among