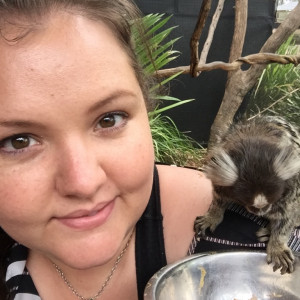 Availability
Around Mayfield West
Sunday

4:30 PM - 7:30 PM
Monday

7:15 AM - 8:15 AM
Monday

5:30 PM - 8:30 PM
Tuesday

7:15 AM - 8:15 AM
Tuesday

6:30 PM - 8:30 PM
Wednesday

7:15 AM - 8:15 AM
Wednesday

5:30 PM - 9:00 PM
Thursday

6:00 PM - 9:00 PM
Saturday

4:00 PM - 6:30 PM
Travel policy
I prefer to do home visits so am happy to travel to you as long as it is within a reasonable distance. I can also meet for sessions at the University of Newcastle or at a local library where study rooms are available (these often require previous booking in advance)
About
My name is Jess, I'm 29yrs old and currently completing my PhD in Anatomy and Physiology at University of Newcastle.
I completed my Bachelors in Biomedical Science in 2010, and finalised my Honours in Biomedical Science (First Class) in 2014 whilst working full time as a research assistant in the medical sciences at UoN.

After graduation I spent almost 3 years travelling abroad. Everything from conservation work in Africa (big cats rehabilitation and great white shark research), to climbing the Great Wall in China, before making my way across most of Europe, all the way from England to Russia.
After all that travelling I can honestly say the best thing about Australia (besides family and friends) is the weather, beaches and Milo. I really missed Milo overseas haha

As for tutoring, I have experience tutoring students in yr 10-12 from both public and private schools in a variety of subjects including maths, English, history and science.
I wouldn't necessarily say I have a style, but rather aim to adapt my methods to suit the needs of each individual. In some cases, helping someone discover the best way of learning for them is the first step in helping them to thrive. For some this may be memory games, visual aids or even helping create audio study notes to listen to on the iPod or phone.

In general my rates are:
$40/hr for one on one tutoring years 10-12
$35/hr for one on one tutoring years 7-9
$25/hr PER student for group session

(Discounts for multiple sessions per week when available)

I prefer home visits but am also able to take students for sessions at the university when it is easier. Where applicable I am also able to offer remote services such as proof reading, help in the creation of study aids (flash cards etc) and video conferencing for presentations at an additional cost.
I generally like to first meet for an introductory session 30-40mins ($20) so that we can meet, discuss learning objectives and methods, and generally see if it is going to be a good fit moving forward. Choosing the right tutor is often more important than simply making the decision to get tutoring.

As a full time student, I am able to offer set hours per week.. however, I understand that as exam periods and assignment deadlines approach, extra sessions may be requested and I will always do my best to accomodate and help as much as required.

Please fell free to get in touch if you have any questions or would like to arrange a meeting

Cheers,
Jess
Achievements
Bachelors in Biomedical Science (2010)
First Class Honours in Biomedical Science (2014)
Peter Dunkley Award for Excellence in Biomedical Science (2014)
Graduate Speech for Health Department (UoN 2014)
Travelling the world solo
Education
Year 12 completed in 2007.
Mark achieved: 92.00.
Currently studying PhD Anatomy and Physiology at The University of Newcastle.
Interests
Travel
Patting Dogs
Swimming at the beach
Playing guitar (poorly)
---
Reviews
I heard about Jessica through another girl in my year who was having science and English tutoring and decided to book for help with my biology studies (yr 11). Jessica is obviously passionate about science and often found new ways to explain or describe concepts that I had completely missed in class. Not only did she help with basic class work but she helped me to brain storm and plan out assignments and exam preparation as well. We clicked so well that I ended up taking her on for a few extra sessions in modern history just to help me revise for end of term exams.
Jess definitely doesn't come across like a 'teacher', she talks to you like a peer and really encourages you to take control of your own learning. We met once a week and my scores improved dramatically in a few months, going from 55% to 82% in class quizzes. I continued meeting with Jess into yr12 and would highly recommend her to anyone needing extra help with science subjects.
- By Ashlee on 10th January 2019
Write a review
Character references
Write a reference
Services
One-to-one tuition
Group tuition
Home visits
Online help (Skype)
Subjects
Biology
Chemistry
Earth & Environmental Science
English
HSC English Extension 1
HSC History Extension
Mathematics
Mathematics General
Modern History
Science
Science Life Skills
Senior Science
Tutoring students in
Year 12
Year 11
Year 10
Year 9
Year 8
Year 7
International Baccalaureate
Jessica can be found among