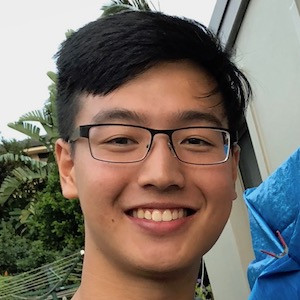 Availability
Around Chifley
Sunday

9:00 AM - 3:00 PM
Saturday

9:00 AM - 3:00 PM
Around Kensington
Sunday

9:00 AM - 3:00 PM
Thursday

7:00 PM - 9:00 PM
Friday

3:00 PM - 8:00 PM
Saturday

9:00 AM - 3:00 PM
Travel policy
I am at UNSW five days a week and finish classes at 6:00pm most days, hence the limited availabilities.
About
Hello! I am Cyrus, a university undergraduate currently studying a Bachelor of Chemical Engineering (Hons) and Commerce at UNSW. I am heading into my second year of Uni this year (2019) and through this platform, I hope to bring about my passion for Science and Mathematics to students and bring about their full potential.

Throughout my years of High School, I have learnt many nuisances and motivators that bring about the potential of others around me and myself. I know this might seem cliche, however, I myself had always attained marks of average to slightly above average. During end of year presentations / speech days, I would watch students get on stage and knew myself, had I spent the time, knew I had the potential to be the one to get first place. It wasn't until the end of Year 10 that I began to study properly and bring about a higher potential I always knew I had. I wish to help students realise this and help motivate them to achieve academic success.

Just for a bit more of a background on me, I graduated High School in 2017 with an ATAR of 94.80 whilst committing to a variety of co-curricula activities including Volunteering opportunities, Cadets, and Sports (Soccer and Tennis), developing my time-management abilities and efficiency. My internal ranks at the end of the year were:
1st in Studies of Religion I
2nd in Physics
3rd in Mathematics Ext. I
4th in Chemistry
8th in English Adv.

In terms of being a mentor and tutor, I am currently employed at a private firm, however looking to diversify into a self-employed basis. I am more than happy to transfer my knowledge, experience and resources to assist students to the best of my ability. I believe i am capable having been a part of an array of volunteering programs, including UNSW Arc Street Team, UNSW Arc Yellow Shirts and being a Peer Mentor for first year engineering students, all aimed at academically and socially orientating students to University.

Just to summarise, I wish to work with students to bring about their passion for Science, Chemistry and/or Mathematics, motivating them to bring about the best of their potential. I will do so by setting meaningful goals and helping to understand concepts which may be deemed tricky.

That's enough about me! Please if there are any queries or questions, do not hesitate to shoot me a phone call / text (0450 780 730) and i will get back to you!

Pricing:
$35.0 for 7-10
$40.0 for 11-12
Achievements
2018 Upper Distinction WAM (Weighted Average Mark) in Uni
2017 Bishop Geoffrey F. Mayne Prize for Studies of Religion I
2017 Academic Excellence Award for Mathematics
2017 Headmasters Commendation Award
2016 Participated in Da Vinci Decathlon Competition
Education
Year 12 completed in 2017.
Mark achieved: 94.80.
Currently studying Bachelor of Chemical Engineering / Commerce at The University of New South Wales.
Interests
Sports: Swimming, Soccer, Tennis, Cross-Country and Table Tennis
Music: Piano and Percussion Instruments
Volunteering programs including UNSW Arc Street Team, UNSW Arc Yellow Shirts, and Peer Mentoring
---
Write a review
Character references
Write a reference
Services
One-to-one tuition
Online help (Skype)
Subjects
Chemistry
Mathematics
Mathematics Extension 1
Mathematics General
Science
Studies Of Religion
Tutoring students in
Year 12
Year 11
Year 10
Year 9
Year 8
Year 7
Cyrus can be found among