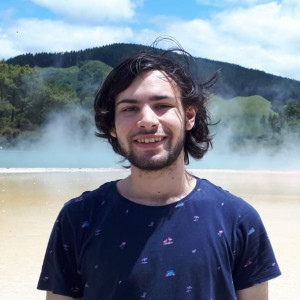 Availability
Around Kingsford
Sunday

8:00 AM - 6:30 PM
Monday

3:00 PM - 7:00 PM
Tuesday

9:00 AM - 6:30 PM
Wednesday

9:00 AM - 6:30 PM
Friday

8:00 AM - 2:30 PM
Saturday

9:00 AM - 6:30 PM
Travel policy
Willing to travel to people's home or two a library, preferably Bowen Library or UNSW Library Further details can be discussed privately
About
Hey!

My name is Guy and I am commencing a Bachelor of Laws/Commerce at UNSW in 2019. I attended Sydney Boys High School from 2013-2018, receiving an ATAR of 97.30

Why can I help?

I understand the HSC (and school as a whole!) is a long, arduous and stressful process. What it takes to succeed isn't doing practice tests over and over and over again, but learning in a structured, careful and balanced way, where progress is genuine and academic commitments don't intrude upon your mental and physical well being. I'm able to work with you one-on-one, carefully explaining key concepts so you can succeed in achieving YOUR specific goals. I have access to an extensive library of notes and essays, and while some of the specific texts for courses such as English have changed, the fundamental skills of essay-writing have not. I genuinely care about my students and will try my very hardest to ensure you succeed. Exam the next day and want to send you a practice essay at 9pm the night before? No problem.

These are the HSC Marks I recieved
English Advanced - 89
English Extension 1 - 45/50
Mathematics - 85
Economics - 91 (I also was the National Winner of the Australian Economics Competition)
Modern History - 95
Ancient History - 95

I am able to tutor in ALL the aforementioned subjects.

However, I also willing to tutor for English, Maths and Science subjects from Years 5-10.

Finally, if anyone desires tips to succeed in the UNSW Law Admissions Test (LAT) I can provide those. I received a mark of 84/100, equal to the 84th percentile. This was sufficient to receive a first round offer from UNSW for Law.

Availability

I charge $45 an hour. However, the first lesson will be free so you can see how it works without worrying about payment.

I'm available to meet at a library or travel to people's homes (unfortunately travelling far may incur and extra small fee). I can be very flexible with times, so you tutoring doesn't have to come at the cost of your extra-curricular, or any other, commitments.

For any further details regarding time and location message me and we can discuss them privately.

Good luck with your studies! There light at the end of the tunnel. Remember that school and the HSC is just one part of your life, it does not and should not define it.
Education
Year 12 completed in 2018.
Mark achieved: 97.30.
Currently studying Bachelor of Commerce/Bachelor of Laws at The University of New South Wales.
Interests
Football
Debating
Public Speaking
Tennis
Cricket
---
Write a review
Character references
Write a reference
Services
One-to-one tuition
Group tuition
Home visits
Subjects
Ancient History
Economics
English
HSC English Extension 1
Mathematics
Modern History