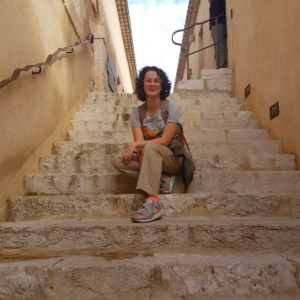 Verified mobile
Verified marks
Availability
Around Sydney
Sunday

7:00 AM - 10:00 PM
Monday

7:00 AM - 10:00 PM
Tuesday

7:00 AM - 10:00 PM
Wednesday

7:00 AM - 10:00 PM
Thursday

7:00 AM - 10:00 PM
Friday

7:00 AM - 10:00 PM
Saturday

7:00 AM - 10:00 PM
Around Rhodes
Sunday

7:00 AM - 10:00 PM
Monday

7:00 AM - 10:00 PM
Tuesday

7:00 AM - 10:00 PM
Wednesday

7:00 AM - 10:00 PM
Thursday

7:00 AM - 10:00 PM
Friday

7:00 AM - 10:00 PM
Saturday

7:00 AM - 10:00 PM
Travel policy
I can only travel to places of public transport.
About
Hello!
I am Doa and I am on my gap year, excited to begin studying at UNSW, in the bachelor of international studies/bachelor of media (communications and journalism) degree. I graduated from Newtown High School of the Performing Arts with an ATAR of 93.45. I have been helping younger students from my school during 2016, 2017 and 2018, so I will be happy to help your year 10, 11 and 12 studies. I can do one to one tuition, either home visits or online. I have mentoring experience during year 11, so I can also do that. I can assist you in the subjects:
* English Advanced
* English Extension 1
* English Extension 2
* Mathematics
* Drama
* PDHPE
I will be:
* motivating my students
* help with class work & assessments
* give students a choice in planning their sessions as well
* go over, review & teach concepts
* provide feedback
* look at example works
* create additional activities to assist learning or to challenge students to help them reach their full potential
For online tutoring, I take $30/hour
For face to face tutoring, I take $40/hour
I can travel to places with public transport access.
Achievements
ATAR 93.45
PDHPE medal
PDHPE honour award
English advanced honour award
English Extension 1 honour award
Highly Commemorated Award for Creative Writing NHSPA
Benson Drama Company
Fletcher Drama Company (director)
NIDA (Drama and acting on screen) certificate
AFTERS (acting on screen) certificate
First Aid certificate
2nd place in Journalism
Education
Year 12 completed in 2018.
Mark achieved: 93.45 (verified).
Currently studying Bachelor of International Studies / Media (communications & journalism) at The University of New South Wales.
Interests
Travelling
Creative writing
Reading
Singing
Playing piano
Hiking
Swimming
Dancing
Going to art galleries
Learning languages
Watching ballet
---
Write a review
Character references
Write a reference
Services
One-to-one tuition
Home visits
Phone help
Online help (Skype)
Subjects
Drama
English
HSC English Extension 1
HSC English Extension 2
Mathematics
PDHPE
Personal Development, Health & Physical Education
Turkish
Tutoring students in
Year 12
Year 11
Year 10
Year 9
Year 8
Year 7