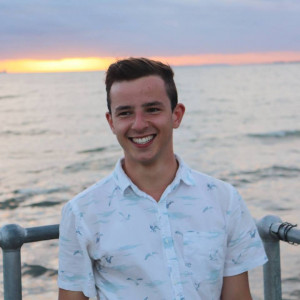 Verified mobile
Verified marks
Reviews
Availability
Around Armadale
Sunday

9:00 AM - 10:00 PM
Monday

9:00 AM - 10:00 PM
Tuesday

9:00 AM - 10:00 PM
Wednesday

9:00 AM - 10:00 PM
Thursday

9:00 AM - 10:00 PM
Friday

9:00 AM - 10:00 PM
Saturday

9:00 AM - 10:00 PM
Travel policy
I can tutor anywhere in the South East Suburbs or in the CBD!
About
Hi! I'm Ben and I graduated from Caulfield Grammar School in 2018, where I was Music Captain and a member of the School Committee. My passions at school included Maths, IT, Music and Sport.
I tutor both for Apex Tuition and privately with students from Year 8 all the way to Year 12, and love teaching and helping others. I always aim to provide the highest quality tutoring I can by understanding the content thoroughly and providing exclusive practice resources.
I am offering tutoring in Maths Methods Units 1-4, Specialist Maths Units 1-2, Computing Units 1-2 and Software Development Units 3-4.
Achievements
School Committee Member - Caulfield Grammar School (2018)
Double Colours & Scholar in Academics - Caulfield Grammar School (2018)
Certificate of Excellence - Caulfield Grammar School (2018)
The Daryl Rosenfield Memorial Prize for Information Technology - Caulfield Grammar School (2017)
The School Encouragement in Music Prize - Caulfield Grammar School (2017)
Music Captain - Caulfield Grammar School (2018)
Australian Maths Competition - Distinction (2017)
NCSS Challenge - First Place and Merit (2015-2018)
Education
Year 12 completed in 2018.
Mark achieved: 98.15 (verified).
Currently studying Bachelor of Science at University of Melbourne.
Interests
Travelling
Music
Reading
Sport - Badminton, Tennis, Soccer
Spending time with friends and family
Watching TV!
---
Reviews
In the middle of Year 12 I was really struggling with Maths Methods and felt like I wouldn't be able to achieve the mark I needed to get into my course. Fortunately, Ben started tutoring me and my SAC marks increased and I ended up getting more than what I needed for University. All round Ben was punctual, polite and a huge help.
- By Cameron Phillips on 26th December 2018
Write a review
Character references
Write a reference
Services
One-to-one tuition
Group tuition
Home visits
Phone help
Online help (Skype)
Subjects
Information Technology: Software Development Unit 1
Information Technology: Software Development Unit 2
Information Technology Unit 1
Information Technology Unit 2
Mathematics
Mathematics: Mathematical Methods (CAS) Unit 1
Mathematics: Mathematical Methods (CAS) Unit 2
Mathematics: Mathematical Methods (CAS) Unit 3
Mathematics: Mathematical Methods (CAS) Unit 4
Mathematics: Specialist Mathematics Unit 1
Mathematics: Specialist Mathematics Unit 2
Tutoring students in
Year 12
Year 11
Year 10
Year 9
Year 8
Year 7