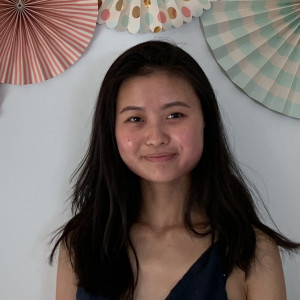 Availability
Around North Ryde
Sunday

9:00 AM - 3:00 PM
Monday

3:00 PM - 7:00 PM
Tuesday

3:00 PM - 7:00 PM
Wednesday

3:00 PM - 7:00 PM
Around North Sydney
Sunday

10:00 AM - 4:00 PM
Monday

3:00 PM - 7:00 PM
Tuesday

3:00 PM - 7:00 PM
Wednesday

3:00 PM - 7:00 PM
Travel policy
Able to travel free of charge in Ryde area, Chatswood area, North Sydney area and CBD. Flat rate of $5 for travel outside of these areas.
About
Hi there, I'm Yan and I was part of the class of 2018 at North Sydney Girls. I maintained top ten ranks for all my subjects, in particular 3rd in English Advanced, 2nd in Physics (including equal 1st in trials) and 4th in Italian Beginners. I plan to begin an Actuarial Studies degree at UNSW in 2019.
I really enjoyed each of my subjects, which allowed me to stay motivated. I would love to help foster this same attitude in my students.
I offer tutoring in Maths (up to and including Extension 1), Physics, Italian beginners as well as English essay and creative editing/help (up to and including Extension 1).
I would love to provide more information on any of my services. Feel free to get in touch :)
Achievements
3rd internally for English Advanced
2nd internally for Physics
4th internally for Italian Beginners
Education
Year 12 student.
Currently studying at North Sydney Girls High School.
Interests
Volunteering
Rowing
Writing
Environment
Kayaking
---
Write a review
Character references
Write a reference
Services
One-to-one tuition
Group tuition
Phone help
Online help (Skype)
Subjects
Italian
Italian Beginners
Mathematics
Mathematics Extension 1
Physics
Tutoring students in
Year 12
Year 11
Year 10
Year 9