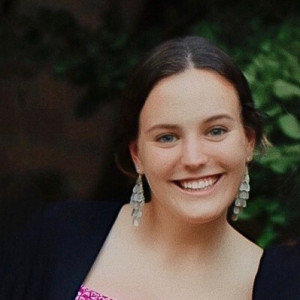 Availability
Around Claremont
Sunday

8:30 AM - 4:30 PM
Monday

4:30 PM - 8:30 PM
Tuesday

4:30 PM - 8:30 PM
Wednesday

4:30 PM - 8:30 PM
Thursday

4:30 PM - 8:30 PM
Friday

4:30 PM - 8:30 PM
Travel policy
I'm happy to travel within a reasonable distance of my home in Claremont or school in Mosman Park, as well as in either of the libraries in Perth City. I'm available every day except for Saturdays due to existing work commitments. I'm happy to negotiate travel arrangements, so if you have any queries please message me!
About
Hi! My name is Alexandra, and I'm a current Year 12 student at Iona Presentation College, studying 6 ATAR courses- Chemistry, Literature, Human Biology, Religion, Modern History, and Media. I'm available to tutor the following:

Primary- Maths, Humanities, Science, English
Lower Secondary- Maths, Humanities, Science, English, Music, Media
ATAR Year 11- Chemistry, Literature, Human Biology, Religion, Modern History, and Media

I can help students consolidate what was learnt in class, refine their knowledge of tricky concepts, and lend a hand with test revision/assignments/homework. My rates are negotiable, and I'm happy to travel to your home or a local library (including those in Perth City and throughout the western suburbs).

I'm hard-working, kind, and accomodating, and would love to tutor younger students and help them reach the best of their academic ability. I'm flexible with my hours, and am happy to work around the needs of your child and family, focusing on the student gaining the skills and knowledge needed to succeed in school.

My high school education has enabled me to develop effective study techniques, essay-writing strategies, and exam preparation skills, all of which I'd love to share with other students, along with tutoring of concepts and content across all areas of the school curriculum.

I've always had an innate love of learning, and I believe that education is the most valuable gift anyone can receive. I'd really enjoy the opportunity to work with younger students to not only improve their grades, but help them to enjoy learning and make the most of their education. Above all else, I'd love tutoring to be a fun experience that empowers the student.

I've been extensively involved in mentoring younger students through academic extension programs at my school and beyond. I have acted as a mentor for my school's World Scholars Cup delegation, using my own experience to help younger students practice debate, refine their writing, and study effectively for the competition.

I've also established an online tutoring group for the competition, which tutors more than 100 competitors from around the globe through weekly mentoring sessions. The aim of the group is to ensure equity across the competition, giving students from all regions access to mentoring and resources that their school may not provide.

My experience in these positions, as well as in other leadership roles, has allowed me to develop strong communication skills, patience, and experience working with effectively with others.

I'd love to impart my skills and knowledge with students who need a hand.
Achievements
1st place in Human Biology, Modern History, Media (2018)
2nd place overall competitor (out of 1800) at the World Scholars Cup Kuala Lumpur Global Round (2018)
12th place overall team at the Yale University World Scholars Cup Tournament of Champions (2017)
Awardee of a biyearly award for academic excellence (2014-2018)
Selected for the 2019 National Youth Science Forum
Education
Year 12 student.
Currently studying at Iona Presentation College.
Interests
Field hockey
Music (I play clarinet, piano, guitar, and saxophone!)
---
Write a review
Character references
Write a reference
Services
One-to-one tuition
Group tuition
Home visits
Phone help
Online help (Skype)
Subjects
Chemistry
English
History
Human Biology
Literature
Mathematics
Media Arts
Modern History
Music
Science
Tutoring students in
Year 11
Year 10
Year 9
Year 8
Year 7
Alexandra can be found among