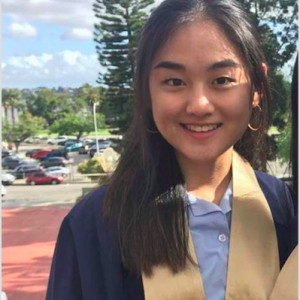 Availability
Around Willetton
Sunday

7:00 AM - 8:00 PM
Monday

7:00 AM - 8:00 PM
Tuesday

7:00 AM - 8:00 PM
Wednesday

7:00 AM - 8:00 PM
Thursday

7:00 AM - 8:00 PM
Friday

7:00 AM - 8:00 PM
Saturday

7:00 AM - 8:00 PM
About
Hi, I am a Year 12 Graduate of 2018. I am an experienced tutor who has 2 years worth of teaching experience. I have helped several school children struggling to keep up with their studies, pulling their grade from a C to an A. I will be providing tutoring services for Maths and English for Primary School Children and for Methods ATAR, English ATAR and Accounting and Finance ATAR for year 11s and 12s. 
For the past 2 years, I have studied 6 ATAR subjects at Rossmoyne Senior High School. I have received a scholarship through this school, being placed in the highest classes for all 4 subjects: English, Maths, HASS and Science. Over the years, I have received several academic awards, including certificates of high achievement and excellence. I also received straight As across all my subjects in year 10, year 11 and year 12, also receiving top subject award for English ATAR in Semester 2.
I am patient and passionate and I enjoy working with people. My ultimate goal in providing these tutoring services is to allow children to become more confident in their academic studies in order to achieve a higher mark. 
Achievements
Subject award ENGLISH ATAR semester 2 2018
5.0 GPA Certificate of Excellence in year 12
Certificate of Excellence in year 11 (Straight As)
Education
Year 12 completed.
Mark achieved: N/A.

Interests
Piano
Watching movies
Reading
---
Write a review
Character references
Write a reference
Services
One-to-one tuition
Group tuition
Home visits
Online help (Skype)
Subjects
English
Mathematical Methods
Mathematics
Tutoring students in
Year 12
Year 11
Year 10
Year 9
Year 8
Year 7
Jane can be found among