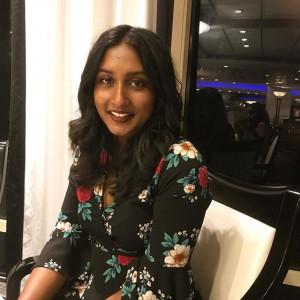 Availability
Around Old Toongabbie
Sunday

9:00 AM - 8:00 PM
Monday

5:00 PM - 8:00 PM
Tuesday

5:00 PM - 8:00 PM
Wednesday

5:00 PM - 8:00 PM
Thursday

5:00 PM - 8:00 PM
Friday

5:00 PM - 8:00 PM
Travel policy
I would prefer to tutor at my home, located in Toongabbie. If this is difficult to reach, I can also tutor at any library located in Wentworthville, Westmead, Parramatta, Castle Hill, or Blacktown.
About
Hello!


My name is Vinogi and I'm currently studying speech pathology at the University of Sydney. I graduated from a selective school in 2017 with a 95.80 ATAR, and got band 6's and high band 5's in all my subjects.

I have tutored a wide range of students, from year 1 to year 12, and have done so for over a year. My tutoring style is completely customised to each student, but always focuses on building the student's enthusiasm and motivation in their studies whilst ensuring they meet their academic goals.


MY TUTORING SERVICES:
- Yr 11 and 12 English Standard and Advanced.
- Yr 11 and 12 Maths General and Advanced.
- Yr 11 and 12 Business Studies
- Years K to 10 English and Maths

$25/h for primary classes.
$30/h for selective training.
$30/h for year 7 to year 10 classes.
$35/h for year 11 and 12 classes.

(For 1.5h classes, please contact me to discuss the cost)


I am happy to tutor at my home (Toongabbie), or any library in Wentworthville, Parramatta, Castle Hill, or Blacktown.
I cannot tutor at the student's house.


Please contact me if you're interested.
Education
Year 12 completed in 2017.
Mark achieved: 95.80.
Currently studying Bachelor of Applied Science (Speech Pathology) at The University of Sydney.
---
Write a review
Character references
Write a reference
Services
One-to-one tuition
Phone help
Online help (Skype)
Subjects
Business Studies
English
Mathematics
Mathematics General
Tutoring students in
Year 12
Year 11
Year 10
Year 9
Year 8
Year 7