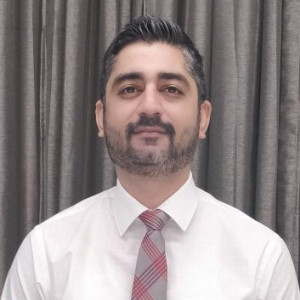 Availability
Around Carlton
Saturday

10:00 AM - 12:00 PM
Around Melbourne
Monday

10:00 AM - 7:00 PM
Tuesday

10:00 AM - 7:00 PM
Wednesday

10:00 AM - 7:00 PM
Thursday

10:00 AM - 7:00 PM
Friday

10:00 AM - 7:00 PM
About
Hi There, I am Sam and I am a VCE accounting tutor for year 11 and 12. I am a qualified accountant with 13 years of industry experience with major corporates. I have a flair for teaching and have been teaching accounting students in my past for high school as well as professional courses. The objective of my teaching is to make the student comfortable with the module and the content. The student should enjoy studying and feel it beneficial as part of its development.

I believe in three important aspects of teaching:

1) The basic concepts of the subject are very important to learn in the formative years so that in the subsequent levels the student can grow faster and grasp the concepts quicker and excel in the subject easily.

2) I believe students learn better and retain more when they are not only taught the theoretical aspect of the subject, but also the related practical aspect.

3) Expertise comes clear basics along with practice coupled... so practice, practice and more practice makes a person perfect... and enables a student to tackle any related questions of the subject with ease.

My availability is dependent on student's availablility during Monday – Saturday (firts half or second half). Also, I allow students to text me or call me for a quick interaction on any doubts or questions they may have post sessions (prefer to get a prior intimation so that I can make myself available). Further, I am in the process of getting the Working with children certification.

I am only charging $35/hour and the first 15 minutes is free. Contact me today to start acing your exams and finding the complicated subjects like accounting easy! I live in the Carlton area and prefer to hold lessons at the Victoria State Library in the CBD, however I'm open to considering an alternative location.

Look forward to hearing from you soon.
Education
I am a Chartered Accountant with 13 years of industry experience. I have a very strong background in accounting given my practical experience in the field and thus will be able to provide my students with theoritical as well as practical perspective of the subject.
Interests
I am a music lover, love listeing to all kinds of musics (depending on mood)
An avid walker, love long walks, aim to start regular running
Aim to go for my first sky dive very soon
Weekends are for cycle rides near yarra river, enjoy the fresh air and the exercise
Love reading books in spare time and during travels or before bed time
---
Write a review
Character references
Write a reference
Services
One-to-one tuition
Home visits
Online help (Skype)
Subjects
Accounting Unit 1
Accounting Unit 2
Accounting Unit 3
Accounting Unit 4
Sam can be found among