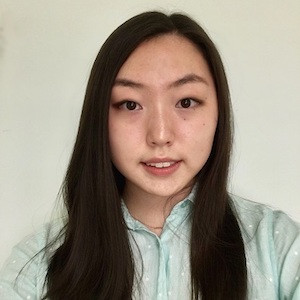 Verified mobile
Verified marks
Availability
Around Watsonia
Monday

10:00 AM - 11:00 AM
Tuesday

10:00 AM - 7:00 PM
Wednesday

10:00 AM - 7:00 PM
Thursday

10:00 AM - 7:00 PM
Friday

10:00 AM - 4:00 PM
Around Kew
Sunday

2:30 PM - 5:00 PM
Tuesday

10:00 AM - 8:00 PM
Wednesday

10:00 AM - 5:00 PM
Thursday

10:00 AM - 8:00 PM
Friday

10:00 AM - 8:00 PM
Saturday

2:30 PM - 5:00 PM
Travel policy
I can tutor at my house (Watsonia), Watsonia Library, Kew Library, CBD, or University of Melbourne. Other local libraries can be negotiable.
About
ATAR: 97.85
Subjects: English Language, Further Mathematics, Mathematical Methods, Specialist Mathematics, Japanese, Chemistry

Hi! My name is Chaewon Baik and I am currently studying Bachelor of Biomedicine at the University of Melbourne. I have done all the VCE maths subjects however, I enjoy tutoring Further Mathematics the most. I can speak English and Korean, and a little bit of Japanese. I like to make my lessons very enjoyable but also achieve the best of the student's ability.

I have been tutoring Further Mathematics and primary school mathematics for a year. I am experienced in both one-to-one tutoring and Skype (online) based tutoring.

I have a valid Working With Children's Check.
Achievements
House Music Captain for Cato house
Premiers Active April Challenge – 2nd place in the Senior School team
JLTAV Brush Calligraphy Competition – 2nd place in Victoria
Language Perfect World Competition – Gold Certificate
House Captain for Cato (2015)
European Choir Tour (2014)
1st place in the JLTAV (Japanese Language Teachers' Association of Victoria) video competition
Represented Methodist Ladies College in Cheerleading (Team Teal: 2nd in Australia, 1st in the AASCF Battles)
Received a certificate of Distinction from the Australian Mathematics Competition
Received the Judges Award in the First Lego League competition run by Lego
Volunteering at the Starlight Children's Foundation (Starlight Express Room at the Royal Children's Hospital)
Education
Year 12 completed in 2017.
Mark achieved: 97.85 (verified).
Currently studying Bachelor of Biomedicine at University of Melbourne.
Interests
Craft - Crocheting, Knitting
Violin and Piano
Dance - Ballet, Jazz, Cheerleading
Drama - Acting, Stagecraft
---
Write a review
Character references
Write a reference
Services
One-to-one tuition
Group tuition
Online help (Skype)
Subjects
Mathematics
Mathematics: Further Mathematics Unit 1
Mathematics: Further Mathematics Unit 2
Mathematics: General Mathematics Unit 1
Mathematics: General Mathematics Unit 2
Mathematics: Mathematical Methods (CAS) Unit 1
Mathematics: Mathematical Methods (CAS) Unit 2
Mathematics: Mathematical Methods (CAS) Unit 3
Mathematics: Mathematical Methods (CAS) Unit 4
Mathematics: Specialist Mathematics Unit 1
Mathematics: Specialist Mathematics Unit 2
Tutoring students in
Year 12
Year 11
Year 10
Year 9
Year 8
Year 7
Chaewon can be found among