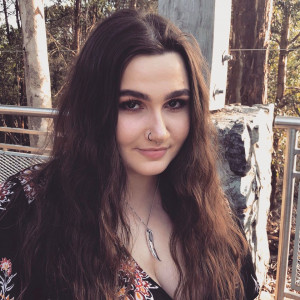 Availability
Around Parkwood
Monday

8:00 AM - 7:00 PM
Tuesday

8:00 AM - 7:00 PM
Wednesday

8:00 AM - 7:00 PM
Thursday

8:00 AM - 5:00 PM
Friday

4:00 PM - 7:00 PM
Around Helensvale
Monday

8:00 AM - 7:00 PM
Tuesday

8:00 AM - 7:00 PM
Wednesday

8:00 AM - 7:00 PM
Thursday

8:00 AM - 7:00 PM
Friday

4:00 PM - 7:00 PM
Travel policy
I only tutor at an agreed location, be it a library or your home. If this location is within a reasonable distance from my home there will be no travel fee. If you wish to employ my services but are at a substantial distance, there will be a small travel fee priced at my discretion (which will be advised before the day).
About
I have recently completed a Bachelor of Fine Art majoring in Jewellery and Small Objects with extra degree requirements from the Bachelor of Arts degree (Literature, Shakespeare, Poetry and Creative Writing) and will be commencing a Master of Teaching Secondary in 2019. I am an advocate for the importance of education and have great skills to share with students seeking further tuition. I'm easy-going and have a fun attitude whilst still maintaining professionalism and helping you achieve great results! I specialise in English and Art, but am extremely capable to help with assignment preparation (specifically essay writing and research) and am confident tutoring all subjects in junior years (including Maths and Science).
Achievements
Bachelor of Fine Art
Successful completion of Year 12 (QCE obtained and OP 7 achieved)
Education
Year 12 completed in 2013.
Mark achieved: 7.00.
Currently studying Recently completed a Bachelor of Fine Art and am commencing a Master of Teaching Secondary in 2019 at Griffith University.
Interests
Reading
Writing
Metalsmithing
Drawing
---
Reviews
Rachael is an amazing tutor always on time and reliable. Very professionally and can help in many areas. Definitely recommend
- By Amie Conroy on 4th November 2018
Write a review
Character references
Write a reference
Services
One-to-one tuition
Home visits
Subjects
Art
English
English ESL
English Enrichment
English Essentials
English Mainstream
Geography
History
Mathematics
Mathematics Enrichment
Mathematics Essentials
Mathematics Mainstream
Science
Visual Art
Tutoring students in
Year 12
Year 11
Year 10
Year 9
Year 8
Year 7
Rachael can be found among