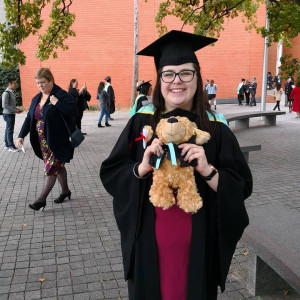 Availability
Around Frankston
Sunday

10:00 AM - 2:00 PM
Wednesday

10:00 AM - 3:00 PM
Thursday

10:00 AM - 8:00 PM
Friday

10:00 AM - 6:00 PM
Saturday

10:00 AM - 4:00 PM
Travel policy
Travel by car up to 45 mins away from Frankston.
About
I'm a second year Master of Teaching (Secondary) student at the University of Melbourne. I'm currently studying to be a Biology and Psychology teacher and have extensive experience tutoring Maths and Science. I'm super enthusiastic about teaching and learning!
Achievements
BSc - Developmental Biology, Genetics, and Psychology
Drove from Brisbane to Canberra in 14 hours
Education
Year 12 completed in 2012.
Mark achieved: 86.00.
Currently studying Master of Teaching (Secondary) at University of Melbourne.
Interests
Video games
Brooklyn Nine Nine
Hanging with my dog
Reading
---
Write a review
Character references
Write a reference
Services
One-to-one tuition
Group tuition
Home visits
Online help (Skype)
Subjects
Biology Unit 1
Biology Unit 2
Biology Unit 3
Biology Unit 4
English
Mathematics
Mathematics: Foundation Unit 1
Mathematics: Foundation Unit 2
Mathematics: Further Mathematics Unit 1
Mathematics: Further Mathematics Unit 2
Mathematics: General Mathematics Unit 1
Mathematics: General Mathematics Unit 2
Psychology Unit 1
Psychology Unit 2
Psychology Unit 3
Psychology Unit 4
Science
Tutoring students in
Year 12
Year 11
Year 10
Year 9
Year 8
Year 7
Mariah can be found among