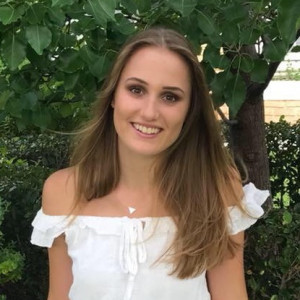 Availability
Around Attadale
Sunday

7:00 AM - 10:00 PM
Monday

4:00 PM - 10:00 PM
Tuesday

4:00 PM - 10:00 PM
Wednesday

4:00 PM - 10:00 PM
Thursday

4:00 PM - 10:00 PM
Friday

4:00 PM - 10:00 PM
Saturday

7:00 AM - 10:00 PM
Around Applecross
Sunday

7:00 AM - 10:00 PM
Monday

4:00 PM - 10:00 PM
Tuesday

4:00 PM - 10:00 PM
Wednesday

4:00 PM - 10:00 PM
Thursday

4:00 PM - 10:00 PM
Friday

4:00 PM - 10:00 PM
Saturday

7:00 AM - 10:00 PM
About
Hi I'm Tiffany! A friendly and devoted tutor looking to help others achieve their academic goals whilst enjoying learning.

I graduated from Penrhos College in 2016 and am currently in my 3rd year of Mechanical Engineering and Finance at UWA. As an engineering student I am very passionate about Maths and Science and my approach to tutoring often involves examples of real life applications to develop interest and a more in depth understanding.

I Tutor;
- Yr 11 & 12; Maths Methods & Applications, Physics, Italian

- All subjects for students in year 10 and below

Experience/Qualifications
I have 3 years experience tutoring students and working with families to develop a tutoring style and study techniques that suit each student individually.

I also have my Working with Children Check

Location
- I am available to meet at a students house or local library
- At my home in Attadale I have a suitable office for tutoring
- I study at UWA and can tutor in one of the libraries on campus

As an experienced tutor I will provide valuable guidance and motivation with mastering high school work and aim to help all of my students stay on top of their studies in order to achieve strong results.

Feel free to contact me and I would love to answer any further questions.
Education
Year 12 completed in 2016.
Mark achieved: 97.00.
Currently studying Mechanical Engineering at The University of Western Australia.
---
Write a review
Character references
Write a reference
Services
One-to-one tuition
Group tuition
Home visits
Teaching studio
Phone help
Online help (Skype)
Subjects
Drama
Economics and Business
English
Essential Mathematics
General Mathematics
Health and Physical Education
Human Biology
Italian
Mathematical Methods
Mathematics
Physics
Science
Tutoring students in
Year 12
Year 11
Year 10
Year 9
Year 8
Year 7
Tiffany can be found among