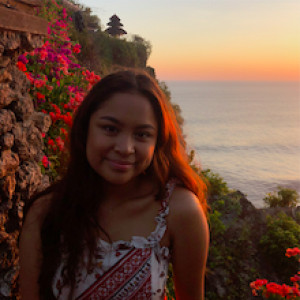 Availability
Around McDowall
Sunday

12:00 PM - 8:00 PM
Wednesday

8:00 AM - 8:00 PM
Friday

8:00 AM - 8:00 PM
Saturday

7:00 AM - 10:00 PM
Around Chermside
Sunday

12:00 PM - 8:00 PM
Wednesday

8:00 AM - 8:00 PM
Friday

8:00 AM - 8:00 PM
Saturday

7:00 AM - 10:00 PM
About
Hello! My name is Elyza Cristobal and I am currently studying a Bachelor of Advanced Science (with a dual major in Biological Chemistry) at the University of Queensland. I am a graduate from Northside Christian College (2017) and also attended Kedron State High School (2013-2016) and achieved VHA's across my subjects:

English: VHA7
Math B: VHA9
Math C: VHA3
Physics: VHA5
Chemistry: VHA2
Biology: VHA7

I am an approachable, motivated and reliable person who is extremely passionate about learning! I specialise in Science and Mathematics subjects but I am also highly competent in the other subjects I offer. I believe that students can achieve their full potential when they are able to fully understand and enjoy their studies - which is what I assist in doing!

Please feel free to contact me on 0447 284 073 or email me at lyza.cristobal@hotmail.com for further enquires!
Achievements
Academic Excellence Award 2017
Mathematics B Academic Excellence Award 2017
Biology Academic Excellence Award 2017
Gold Academic Achievement 2017
Prefect 2016
Multiple Gold & Silver Academic Awards 2013-2016
Multiple Gold, Silver and Bronze Diligence Awards 2013-2016
Education
Year 12 completed in 2017.
Mark achieved: 3.00.
Currently studying Advanced Science at The University of Queensland.
Interests
Planning & Journalling
Hiking
Painting
Baking & Cooking
---
Write a review
Character references
Write a reference
Services
One-to-one tuition
Group tuition
Phone help
Online help (Skype)
Subjects
Art
Biology
Chemistry
English
English ESL
English Enrichment
English Essentials
English Mainstream
Mathematics
Mathematics A
Mathematics B
Mathematics C
Mathematics Enrichment
Mathematics Essentials
Mathematics Mainstream
Physics
Science
Tutoring students in
Year 12
Year 11
Year 10
Year 9
Year 8
Year 7