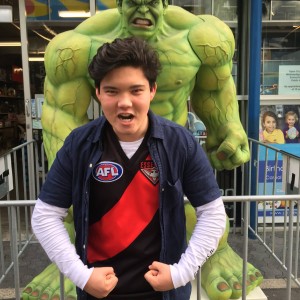 Availability
Around Thornton
Sunday

9:00 AM - 6:00 PM
Monday

4:00 PM - 6:00 PM
Tuesday

4:00 PM - 6:00 PM
Wednesday

4:00 PM - 6:00 PM
Thursday

4:00 PM - 6:00 PM
Friday

4:00 PM - 6:00 PM
Saturday

4:00 PM - 6:00 PM
Travel policy
I can travel to anywhere in the Newcastle or Maitland Areas, but it will cost more (negotiable).
About
I am a Year 12 student at Merewether Selective High School that is passionate about learning, as well as sharing my knowledge with others!

I am comfortable tutoring most Humanities, Social Science, and English subjects.

Mr rate is negotiable, and the first session will involve a sit-down with myself, the student, and parent(s)/caregiver(s) to discuss in-depth a curriculum for the student. This session is free of charge.

I am open to tutoring after school hours and on weekends in the Newcastle and Maitland areas.

Please contact me with any enquiries.
Achievements
Opportunity Class 2011-2012
Merewether Selective High School, 2013-2018
YMCA NSW Youth Parliament Member for Maitland, 2018
NSW Law Association Mock Trial Quarter-Finalist, 2017
Merewether High School Leadership Passport
Merewether High School Distinction Modern History
Merewether High School ROSA History
ICAS Writing High Distinction
ICAS Reading Distinction
ICAS Math Distinction
ICAS Computer Skills Distinction
ICAS Science Distinction
Education
Year 12 student.
Currently studying at Merewether High School.
---
Write a review
Character references
Write a reference
Services
One-to-one tuition
Group tuition
Home visits
Phone help
Online help (Skype)
Subjects
Ancient History
English
Geography
HSC English Extension 1
History
History Elective
Legal Studies
Modern History
Studies Of Religion
Tutoring students in
Year 12
Year 11
Year 10
Year 9
Year 8
Year 7
Luka can be found among