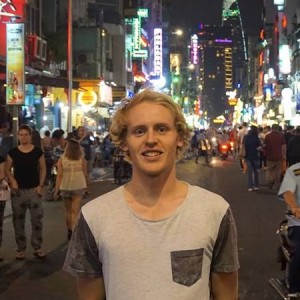 Availability
Around Wollongong
Monday

9:00 AM - 6:30 PM
Tuesday

2:30 PM - 6:30 PM
Wednesday

4:00 PM - 7:00 PM
Thursday

4:00 PM - 7:00 PM
Friday

9:00 AM - 6:00 PM
Travel policy
I am happy to travel to the student's place for tutoring.
About
I am a second year University student, studying a Bachelor of Arts majoring in English Literature and History. I am a Dean's Scholar, and received 3 high distictions and 4 distictions in my first year. I am primarily looking at tutoring English and History students at a high school level (grades 7-12), but if anyone else would like tutoring please get in contact! As stated elsewhere in my profile, I received an ATAR of 91.75 in 2013, along with an 88 in English Advanced and 43/50 in English Extension 1.

My approach to tutoring is very student oriented. My lessons are very collaborative, and the knowledge i provide isn't taught concretely but as a guide for the student to begin to develop their own ideas and thinking. I will often start lessons off with broader themes that are more relevant to the student, as I find that topics such as Romantic poetry, for example, are regularly taught in a very dry fashion and the student often comes to believe it has no relevance to them. I therefore engage the student through making it appealing to their own experiences.

I provide a simple framework for essay writing which can be used over and over again to achieve excellent marks once it is understood. I also offer proof reading, help with grammar and punctuation, and help with expression and turn of phrase. I am very well read in both English literature/film and history, and they are as much a passion to me as they are an area of study.

I believe that tutoring extends outside of the allocated face-to-face time, and that learning can continue to take place through online interactions with the student over messenger, email etc. I am not money driven, but genuinely want to promote learning in the History and English fields as I believe too many students are becoming disinterested in them, and see them as unnecessary.
Education
Year 12 completed in 2013.
Mark achieved: 91.75.
Currently studying Bachelor of Arts (English Literature and History) at University of Wollongong.
Interests
I love literature and film; and also enjoy surfing, sports and music.
---
Write a review
Character references
Write a reference
Services
One-to-one tuition
Group tuition
Home visits
Subjects
Ancient History
English
HSC English Extension 1
HSC English Extension 2
HSC History Extension
History
History Elective
Modern History
Society & Culture
Tutoring students in
Year 12
Year 11
Year 10
Year 9
Year 8
Year 7