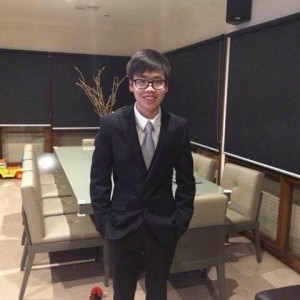 Availability
Around Hoppers Crossing
Sunday

9:00 AM - 5:00 PM
Tuesday

9:00 AM - 1:00 PM
Wednesday

9:00 AM - 5:00 PM
Thursday

9:00 AM - 5:00 PM
Saturday

9:00 AM - 5:00 PM
Around Melbourne
Sunday

9:00 AM - 6:00 PM
Monday

9:00 AM - 6:00 PM
Tuesday

9:00 AM - 6:00 PM
Wednesday

9:00 AM - 6:00 PM
Thursday

9:00 AM - 6:00 PM
Saturday

9:00 AM - 6:00 PM
Travel policy
I live in Hoppers Crossing so i can tutor students from this area by meet up at werribee plaza or their homes. Also i teach student at these location: pointcook, laverton, williams landing, footscray and CBD. Also i have my own car so travel is not a problem if the paid is good enough
About
I achieved a 90 of atar score with these subjects: chemistry, vietnamese, EAL, specialist and method. I am pretty confident that i can tutor people chemistry and math as i am doing bachelor of science majoring chemical engineering in Melb uni. Vietnamese is also one of my strength as it is my native language. Also i can also mentor physic for unit 1 and 2 VCE as my subject in university is related.
Achievements
90 atar score and studying melb uni
Education
Year 12 completed in 2015.
Mark achieved: 90.00.
Currently studying bachelor of science at University of Melbourne.
---
Write a review
Character references
Write a reference
Services
One-to-one tuition
Group tuition
Home visits
Subjects
Chemistry Unit 1
Chemistry Unit 2
Chemistry Unit 3
Chemistry Unit 4
Mathematics
Mathematics: Foundation Unit 1
Mathematics: Foundation Unit 2
Mathematics: Further Mathematics Unit 1
Mathematics: Further Mathematics Unit 2
Mathematics: General Mathematics Unit 1
Mathematics: General Mathematics Unit 2
Mathematics: Mathematical Methods (CAS) Unit 1
Mathematics: Mathematical Methods (CAS) Unit 2
Mathematics: Mathematical Methods (CAS) Unit 3
Mathematics: Mathematical Methods (CAS) Unit 4
Mathematics: Specialist Mathematics Unit 1
Mathematics: Specialist Mathematics Unit 2
Physics Unit 1
Physics Unit 2
Science
Vietnamese
Tutoring students in
Year 12
Year 11
Year 10
Year 9
Year 8
Year 7