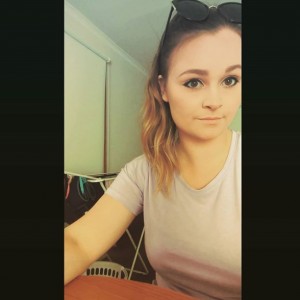 Availability
Around Melton West
Sunday

10:00 AM - 2:00 PM
Tuesday

2:30 PM - 8:00 PM
Thursday

2:30 PM - 8:00 PM
Friday

3:30 PM - 8:00 PM
Saturday

9:00 AM - 3:00 PM
Travel policy
Travel within 12km of Melton West, may incur a $10 fee if further.
About
My Teaching Philosophy:
To help students understand that physical education isn't about learning how to play competitive sports but rather the importance of developing movement skills and social skills for future practices as an adult. To help students understand, value and take care of their health. To assist students to develop and practice literacy skills and provide them with helpful resources that cater to their needs.

I have a passion for teaching year 7-10 students in various areas of the Victorian Curriculum based on life skills, experiences, hobbies and interests, and through tertiary studies. From January 2019 I will be suitable to tutor year 11-12 students.

From 2010 to 2016, I coached high school netball teams at private schools in Brisbane, and completed a certificate III in Community Recreation. Through this certificate I learnt and applied coaching, management and organisational skills with students who loved to play sports such as netball, touch football, athletics and all types of community games i.e. dodge-ball, tail tag etc.

From this experience I developed a love for teaching about sports and health. I often noticed that through my own schooling practices and experiences, my Health and Physical Education Teachers lacked grammatical, expressive, spelling, comprehensive, and other literacy skills relative to completing assignments in these subject areas. Since noticing this, I have striven in my university studies to ensure that I produced the best quality assessment pieces.

Qualifications:
Working With Children Check
First Aid and Anaphylaxis in an Educational Setting
Queensland Certificate of Education (QCE)
Certificate III Community Recreation
Victoria University: Bachelor of Physical Education and Sport Science (GPA 6.47) (2017 Graduate)
Australian Catholic University: Masters of Teaching (Secondary) (Completion date: Nov, 2019)

My main subject areas in which I tutor from tertiary experience include: Literacy Studies (English 7-10), Health (7-10), and Physical Education (7-10).

Subject areas in which I can tutor based on experience, hobbies and interests: Visual Art, Ancient History, components of biology - anatomy of the body both structural and functional, body systems, basic elements of cells, immune system.
Education
Year 12 completed in 2012.
Mark achieved: 88.00.
Currently studying Masters of Teaching (Secondary) at Australian Catholic University.
Interests
Bushwalking
Rollerblading
Creative Writing
Gym
Cooking
Mindfulness
---
Write a review
Character references
Write a reference
Services
One-to-one tuition
Home visits
Teaching studio
Phone help
Subjects
Art
English
Health & Physical Education
History
Interpersonal Development
Tutoring students in
Year 10
Year 9
Year 8
Year 7
Candice can be found among