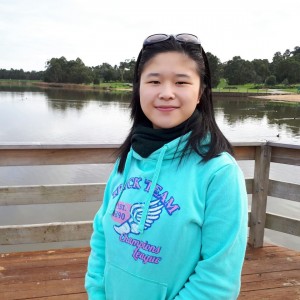 Availability
Around Doncaster
Tuesday

3:00 PM - 9:00 PM
Wednesday

2:00 PM - 7:00 PM
Thursday

3:00 PM - 5:00 PM
Friday

3:00 PM - 6:00 PM
Saturday

9:00 AM - 5:00 PM
Around Bundoora
Tuesday

3:00 PM - 5:00 PM
Thursday

2:00 PM - 5:00 PM
Friday

3:00 PM - 6:00 PM
Travel policy
I am available to tutor at Doncaster, Bulleen, the Pines libraries. If you would like online tutoring, please contact me for further information. Home visits may cost more, extra $5 if required to travel more than 10km.
About
Hi there, my name is Millie. Thank you for choosing to visit my page today.

I graduated in 2016 with an English study score of 44 and an Accounting score of 40. Currently, I am a second year Physiotherapy student at La Trobe University.

I want to share my knowledge and my experiences of completing VCE to current students and help them through their VCE journey. My top priority is to encourage students to try their best, and help them realise the importance of their journey towards goal achievement.

The texts I am familiar with include
-To Kill a Mocking bird
- Stasiland
- Medea
- Romeo and Juliet.

If students are studying other texts, I am willing to study the text together with them.

There are many writing styles required for the subject English. Personally, I constantly refine my professional writing ability at university and I also have a passion for creative writing as a hobby. Hence, I understand the difficulties students come across when they are writing essays of any styles, and I believe my experience can contribute to fostering more confidence in their writing.

In terms of accounting, this subject follows an understandable pattern, whether it is answering theory questions or application questions. Often students find accounting boring and repetitive, so I aim to engage students through explaining each concept to tailor each student's needs.

I am familiar with the current study designs for English and Accounting Units 1/2 and Units 3/4 and I can provide resources in the following areas:
- SAC Preparation
- Essays
- Language Analysis
- Accounting Theory questions
- And any other components of the curriculum

If you are seeking help for English for year 7-10, I can also support you in your studies. Grammar, punctuation, spelling and essay writing are present regardless of the year level, and these skills are constantly improved on each time one picks up a pen to begin writing.
Achievements
English Raw 44
Accounting Raw 40
Working with Children's Check
2018 Police Check
Education
Year 12 completed in 2016.
Mark achieved: 96.15.
Currently studying Bachelor of Applied Science and Masters of Physiotherapy Practice at La Trobe University.
Interests
Creative Writing
Reading
Travelling
Music
---
Write a review
Character references
Write a reference
Services
One-to-one tuition
Home visits
Online help (Skype)
Subjects
Accounting Unit 1
Accounting Unit 2
Accounting Unit 3
Accounting Unit 4
English
English Unit 1
English Unit 2
English Unit 3
English Unit 4
Tutoring students in
Year 12
Year 11
Year 10
Year 9
Year 8
Year 7
Millie can be found among