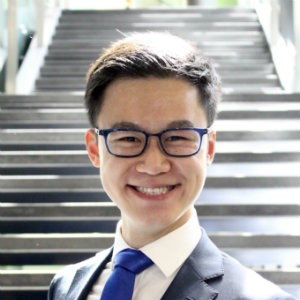 Verified mobile
Verified marks
Availability
Around Parramatta
Sunday

9:30 AM - 12:30 PM
Saturday

1:30 PM - 8:00 PM
Travel policy
Tutoring done at private classroom in Parramatta.
About
Hi guys!
I'm George, and I graduated from James Ruse in 2016 achieving a 99.85 ATAR and 2nd in NSW for Economics.

I'm the co-founder of Crest Economics along with Spencer Hu. Crest Economics is Sydney's leading provider of Economics tuition for both HSC and Preliminary students.

TUTORS:
George Lin (99.85 ATAR 2016, 2nd in NSW Economics, 8th in NSW Biology, Com/Law at USYD)
Spencer Hu (99.95 ATAR 2016, 1st in NSW Economics, 8th in NSW Advanced English, Co-op at UNSW)

Our Classes

Our students are provided with detailed, State Ranking notes based on the Economics Syllabus. They are taught content that extends far beyond what is learnt normally at school, helping them to stand out from their peers and achieve exceptional marks. At Crest, we believe that students receive average marks not because of what they write, but because of what they haven't written. We teach our students exactly what's needed to get full marks in short answers and essays.

Class Structure

20 minutes of discussion of recent economic news and events - crucial to stand out in essays
100 minutes of detailed content breakdown - All syllabus dotpoints comprehensively covered
12 students maximum in a classroom (Parramatta)

Short Answers
Students who attend our classes will learn from the best minds in the state. Our classes cover every aspect of the syllabus in great detail. HSC Economics questions increasingly demand that students apply their knowledge, so mere rote-learning is often not enough. We teach our students how to integrate knowledge from multiple topics—so they can produce the high quality responses that HSC markers are looking for.
On top of learning content, students will be taught the appropriate exam technique to break down any short answer question. Tutors will provide many examples of short answer questions and will walk through solutions step by step. Students are also encouraged to attempt short answer questions at home - we offer free online assistance to students outside of class hours.

Essays
Students will learn how to write and structure essay content. The HSC exam consists of four extended response questions of which students are asked to write two essays of their choice. At Crest, we will provide updated essay plans for all essays that can be potentially asked in the HSC. These essay plans include the analysis of relevant economic theories, graphs and statistics. Furthermore, we also provide essay marking services for our students at no extra charge.

Pricing
$30 / hour
$60 / lesson
$540 / 1 term (9 weeks)

Time Table
Currently, classes are available for the following times. However, if you wish to express interest in another time please let us know. We may open up new classes in the future if there is sufficient interest. Classes weekly during the school term.

Prelim Economics

Saturday 3:30 - 5:30 pm
Sunday 2:00 - 4:00 pm

HSC Economics

Saturday 1:30 - 3:30 pm
Saturday 6:00 - 8:00 pm
Sunday 9:30 - 11:30 am
Thursday 4:00 - 6:00 pm

Proven results

Congratulations to our 2017 Cohort which achieved fantastic results! Our top achievers:

Leon X, Baulkham Hills 97
Vivian X, Baulkham Hills 96
Fahaad A, Alpha Omega 96
Kieran Z, James Ruse 94
Naveena S, St George Girls 93
Magnus Z, Baulkham Hills 93
Jordan J, Castle Hill 93
Lachlan, Castle Hill 93

CONTACT
For enquiries and enrolment: please email, call or text us at your convenience.

cresteconomics@gmail.com

George Lin 0450668278
Spencer Hu 0432683060

REGISTRATION
Rego here for HSC: https://goo.gl/forms/MUJzqA9FDEQP46sr1
Prelim: https://goo.gl/forms/WQZmY0bPbww3yd4C2

LOCATION
Unit 13, Level 3, 48 George Street, Parramatta NSW
Achievements
99.85 ATAR
2nd in NSW Economics (98)
8th in NSW Biology (97)
Commerce/Law USyd - Economics Honours
Education
Year 12 completed in 2016.
Mark achieved: 99.85 (verified).
Currently studying Commerce/Law at The University of Sydney.
---
Write a review
Character references
Write a reference
Services
One-to-one tuition
Group tuition
Teaching studio
Phone help
Online help (Skype)