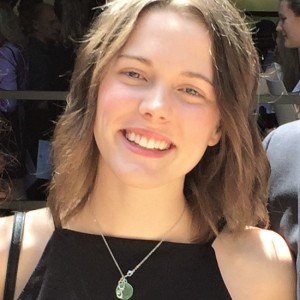 Verified mobile
Verified marks
Availability
Around Cannon Hill
Monday

3:00 PM - 8:00 PM
Tuesday

3:00 PM - 8:00 PM
Wednesday

3:00 PM - 8:00 PM
Thursday

3:00 PM - 8:00 PM
Friday

3:00 PM - 8:00 PM
Travel policy
I am happy to do at home tutoring on specific days of the week if the location isn't too far away. Please enquire for more details.
About
Hi, my name's Chloe! I graduated from Cannon Hill Anglican College in 2017 and have deferred my university studies, a Bachelor of Veterinary Science (Honours), until 2019, so I hope to fill up my time tutoring and volunteering as a Wildlife Carer.

I have a passion for learning and helping others to achieve their goals (no matter how big or small they may be). My patience and determination allow me to work on the task at hand and assist each student in finding the solution to a problem. I am also hard-working, so you can count on me to consistently tutor at a high standard. My tutoring style is friendly and flexible, which enables me to cater to each individual's needs.

I worked very hard in high school to achieve my VHA results and wish to use the knowledge and skills I have gained to help others succeed academically as well. I am eager to assist anyone who needs help with their studies, so please contact me for enquires or to arrange a session. Thank you!
Achievements
UQ Merit Scholarship
Principal's Award for Outstanding Academic Achievement (2012 - 2017)
Academic Excellence Award (2012 - 2017)
OP 1
Biology Award
Education
Year 12 completed in 2017.
Mark achieved: 1.00 (verified).
Currently studying Bachelor of Veterinary Science (Honours) at The University of Queensland.
Interests
Reading
Listening to music
Looking after animals
Watching movies
Photography
---
Write a review
Character references
Write a reference
Services
One-to-one tuition
Group tuition
Home visits
Phone help
Online help (Skype)
Subjects
Biology
Chemistry
English
English ESL
English Enrichment
English Essentials
English Mainstream
French
Mathematics
Mathematics A
Mathematics B
Mathematics Enrichment
Mathematics Essentials
Mathematics Mainstream
Science
Tutoring students in
Year 12
Year 11
Year 10
Year 9
Year 8
Year 7
Chloe can be found among