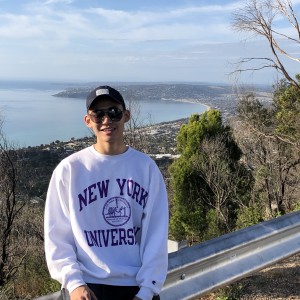 Verified mobile
Verified marks
Availability
Around Hawthorn
Monday

9:00 AM - 9:00 PM
Friday

9:00 AM - 9:00 PM
Around Melbourne
Sunday

9:00 AM - 6:00 PM
Monday

9:00 AM - 9:00 PM
Tuesday

4:00 PM - 9:00 PM
Wednesday

5:00 PM - 9:00 PM
Thursday

6:00 PM - 9:00 PM
Friday

9:00 AM - 6:00 PM
Saturday

9:00 AM - 6:00 PM
Travel policy
I am able to meet at the State Library and Hawthorn Library. Alternatively, I may be able to travel to your home upon distance and availability.
About
IB Graduate (42, ATAR 99.40), US Ivy League School Accepted Student

My name is Harry Wu. I am currently a Bachelor of Commerce student at University of Melbourne and an incoming freshman at NYU Stern School of Business (currently on a gap year). I graduated with an overall score of 42 in IB, scoring high 7s in HL English B HL, Chemistry HL, Mathematics SL and Physics SL as well as full marks in some papers and a high raw mark in my economics EE. Competent in exam preparation skills and techniques as well as knowledge of maximising internal assessment marks, I would like to help you excel and hit the 7 through tutoring in these subjects:

- English B HL/SL (I achieved a 56/60 in Paper 1 and a perfect score in Paper 2)
- Mathematics SL (I achieved a perfect score in Paper 1 and 88/90 in Paper 2)
- Chinese A SL (I achieved a 19/20 in Paper 1 and a perfect score in oral assessments)
- Chemistry HL/SL
- Economics EE

I personally enjoyed doing these subjects and am confident to nut-crack the coursework in a tailored, easily understandable approach that suits you the best. I have also accumulated valuable materials and resources that I am more than willing to share with you.

In addition, I applied to prestigious universities in the US last year and was accepted into University of Pennsylvania (Ivy League), Northwestern University, NYU Stern School of Business and UCLA. After achieving a strong SAT score of 1530, building up a competitive applicant profile, and successfully completing many alumni interviews, I have accumulated extremely comprehensive know-how in the entire application process to top US universities. Thus, I will also be offering guidance to polish up your US Application:

- SAT and SAT Subject Test tutoring
- Navigating the Common Application profile
- Brainstorming and drafting the Common Application essay
- School-specific essays and general alumni interview guidance

I am based in Melbourne Metropolitan area and I am able to meet at the State Library of Victoria or local libraries. I am fluent in Mandarin and have flexible availabilities. I am also more than happy to answer your any US College Application-related or studying overseas questions.

Please feel free to email me at harryzwu9@gmail.com for further inquiries.
Achievements
High Distinction in Australian Mathematics Competition
High Distinction in Royal Australian Chemistry Quiz
Silver Award in Steinway&Sons International Youth Piano Competition
Education
Year 12 completed in 2017.
Mark achieved: 99.40 (verified).
Currently studying Bachelor of Commerce at University of Melbourne.
---
Write a review
Character references
Write a reference
Services
One-to-one tuition
Group tuition
Home visits
Online help (Skype)
Subjects
Chemistry
Chinese
Creativity, action, service (CAS)
Economics
English
Extended essay (EE)
Mathematical Studies SL
Mathematics
Mathematics SL
Physics
Science
Theory of knowledge (TOK)
Tutoring students in
Year 10
Year 9
Year 8
Year 7
International Baccalaureate
Harry can be found among