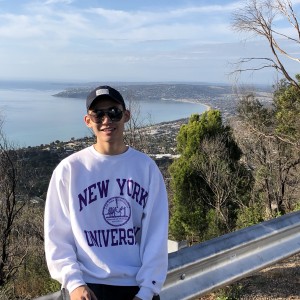 Availability
Around Hawthorn
Monday

9:00 AM - 6:00 PM
Friday

9:00 AM - 6:00 PM
Around Melbourne
Sunday

9:00 AM - 6:00 PM
Monday

9:00 AM - 6:00 PM
Tuesday

4:00 PM - 9:00 PM
Wednesday

5:00 PM - 9:00 PM
Thursday

6:00 PM - 9:00 PM
Friday

9:00 AM - 6:00 PM
Saturday

9:00 AM - 6:00 PM
Travel policy
I am able to meet at the State Library of Victoria or local libraries within the metropolitan area.
About
Hi!

My name is Harry Wu and I am a commerce student majoring in actuarial studies at The University of Melbourne. I graduated in 2017 with an overall score of 42 in IB, scoring high 7s in HL English B HL, Chemistry HL, Mathematics SL and Physics SL as well as full marks in some papers and a high raw mark in my economics EE. Competent in exam preparation skills and techniques as well as knowledge of maximising internal assessment marks, I would like to help you excel and hit the 7 through tutoring in these subjects:

- English B HL/SL (I earned a 56/60 in Paper 1 and a perfect score in Paper 2)
- Mathematics SL (I earned a perfect score in Paper 1 and 88/90 in Paper 2)
- Chemistry HL/SL
- Economics EE

I personally enjoyed doing these subjects and am confident to nut-crack the coursework in a tailored, easily understandable approach that best suits you. I have also accumulated substantial valuable materials and resources throughout the course that I am willing to share with you.

In addition, I applied to a few prestigious universities in the US last year and was accepted in the Stern School of Business at NYU in Early Decision. I also applied to Columbia, Penn, Northwestern, Johns Hopkins, UC Berkeley, UCLA and a few other ones and received/successfully completed many alumni interviews. After achieving a strong SAT score of 1530 and building up competitive application materials, I have built up extremely comprehensive know-how in the entire application process to top US universities. Thus, I will also be offering guidance in polishing up your US Application:

- SAT and SAT Subject Test tutoring
- Building up the Common Application
- Building up your extracurricular résumé
- Tackling and brainstorming for the personal experience essay
- School-specific essays and general alumni interview guidance

I am based in Melbourne Metropolitan area and I am able to meet at the State Library of Victoria or local libraries. I am fluent in both English and Mandarin and have flexible availabilities. I am also more than capable of answering your any Application-related questions.

Please feel free to email me at zewu@student.unimelb.edu.au for further inquiries.
Education
Year 12 completed in 2017.
Mark achieved: 99.40.
Currently studying Bachelor of Commerce at University of Melbourne.
---
Write a review
Character references
Write a reference
Services
One-to-one tuition
Group tuition
Online help (Skype)
Subjects
Chemistry
Chinese
English
Extended essay (EE)
Mathematics SL
Theory of knowledge (TOK)
Tutoring students in
International Baccalaureate
Harry can be found among