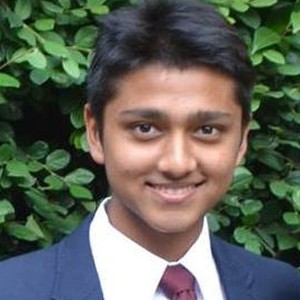 Verified mobile
Verified marks
Availability
Around Kensington
Monday

3:00 PM - 10:00 PM
Tuesday

7:00 PM - 10:00 PM
Wednesday

3:30 PM - 5:30 PM
Thursday

3:00 PM - 10:00 PM
Friday

6:00 PM - 10:00 PM
Saturday

7:00 AM - 12:00 PM
Saturday

2:00 PM - 10:00 PM
Travel policy
I live on UNSW campus at college, which has tutorial rooms already available. Therefore, tutoring at my college is most convenient for me, however I am happy to travel to you if public transport is not a hassle.
About
Hi everyone! My name is Adi and I graduated in 2016 with a 99.95 ATAR. I am currently in my second year at UNSW studying Advanced Maths and Software Engineering. Over the last 3 years, I have worked as a private tutor, and since last year I've been working for a Sydney tutoring company.

My constant interaction with students over this time has helped me to understand how to mentor a student and get the best out of them. I have had the opportunity to work with students of all abilities, and as a result, I've learned that the key to helping everyone achieve success has been to develop within them strong critical thinking skills and a deep understanding of the subject, beyond just memorising formulas and equations.

As a result, my goal with any student is to create a relaxed and interactive environment in which they can take their time to truly understand certain topics, and ask questions to clarify their thinking. I'm very approachable and easy to talk to, and I enjoy interacting with all my students to help them learn.

I would love to help you with anything maths related!
Achievements
Achieved ATAR of 99.95
Ranked 12th overall in Western Australia in 2016
Invited to National Mathematics Summer School in 2016 and 2017
School Prefect and House VC
College Secretary
Won multiple debating awards
UNSW Scientia Scholar
Warrane College Academic Scholar
Education
Year 12 completed in 2016.
Mark achieved: 99.95 (verified).
Currently studying Bachelor of Advanced Mathematics (Hons)/ Bachelor of Software Engineering (Hons) at The University of New South Wales.
Interests
Sports (soccer, cricket, tennis)
Debating and world events
Music
---
Write a review
Character references
Write a reference
Services
One-to-one tuition
Home visits
Online help (Skype)
Subjects
Mathematics
Mathematics Extension 1
Mathematics Extension 2
Mathematics General
Tutoring students in
Year 12
Year 11
Year 10
Year 9
Year 8
Year 7
Adi can be found among