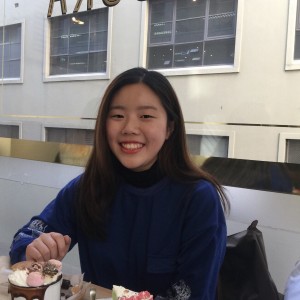 Verified mobile
Verified marks
Reviews
Availability
Around Glebe
Sunday

9:00 AM - 7:00 PM
Monday

9:30 AM - 6:00 PM
Tuesday

9:30 AM - 6:00 PM
Wednesday

9:30 AM - 6:30 PM
Thursday

9:30 AM - 6:00 PM
Friday

9:30 AM - 6:00 PM
Saturday

9:00 AM - 7:00 PM
About
ATAR: 98.75 / University Average Mark: 84.25

Hello! My name is Annie and I am a 2017 graduate from Ascham School. Having had tutors myself throughout high school, I really believe the extra support helped me understand concepts clearer and improve my marks. Although these are both very important, having a tutor pushed me to become more independent, I asked more questions and I took responsibility for my learning.

I understand these essay writing subjects can be confronting and confusing at times. During high school, I often found myself thinking "what am I doing wrong?" or "how do I make sure I won't make the same mistake next time?" after reading my teacher's feedback. This helped me form my own strategies and tips to constantly improve. I hope my students come out of my lessons feeling more confident in their own ability and writing.

I understand that each tutor is unique and different, which is why I offer a trial session to see if I am the right fit for you.

Please feel free to send me a message if you are interested or have any questions. From there we can discuss location and time.
I look forward to hearing from you!
Achievements
Ancient History: 96
Modern History: 94
English Advanced: 93
Education
Year 12 completed in 2017.
Mark achieved: 98.75 (verified).
Currently studying Bachelor of Commerce/Bachelor of Law at The University of Sydney.
---
Reviews
Annie has been tutoring my son for English for approximately 6 months now and since Annie has come on board, not only has there been an improvement in his grades, his attitude towards the subject has improved as well. Annie takes the time to explain & ensure understanding of the content she teaches. She is very patient with her students and will ensure they understand before moving forward.
The combination of her enthusiasm in the subject she teaches along with her knowledge & ability to clearly explain theories & concepts has made the subject more enjoyable for my son. Thank you Annie for all your help.
- By Josephine Chiu on 4th February 2019
Write a review
Character references
Write a reference
Services
One-to-one tuition
Group tuition
Subjects
Ancient History
English
History
Modern History
Tutoring students in
Year 12
Year 11
Year 10
Year 9
Year 8
Year 7
Annie can be found among