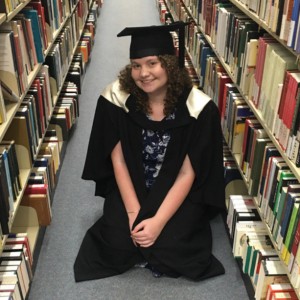 Availability
Around Helensvale
Sunday

8:30 AM - 4:00 PM
Monday

7:00 AM - 7:30 PM
Tuesday

7:00 AM - 7:30 PM
Wednesday

7:00 AM - 7:30 PM
Thursday

7:00 AM - 7:30 PM
Friday

7:00 AM - 7:30 PM
Saturday

8:30 AM - 4:00 PM
Travel policy
I am currently on a Learners license so restricted travel-wise, though I am happy to look into public transport to locations on the Gold Coast such as libraries, coffee shops, etc. if that is preferable.
About
Looking to help students while I complete my Masters - I know how hard and stressful school can be!

I'm a recent university graduate with a Bachelor of Arts, extended major history with a minor in world literature and cultures. I am a current student, taking my Masters in information studies/library science. I do this online so I am very flexible with availability.

Modern history is my speciality but I am also interested in ancient history and English (specifically literature.) At high school these were my best subjects, and I consistently got As.

Cost-wise I can be flexible. I'm also happy to provide help through email.

Contact me with any questions. I'd be glad to help!
Achievements
Graduated with a Bachelor of Arts 2017
OP 7 high school graduate
Education
Year 12 completed in 2013.
Mark achieved: 7.00.
Currently studying Master of Information Studies.
---
Write a review
Character references
Write a reference
Services
One-to-one tuition
Home visits
Phone help
Online help (Skype)
Subjects
Ancient History
English
History
Modern History
Tutoring students in
Year 12
Year 11
Year 10
Year 9
Year 8
Year 7
Rebecca can be found among